Making a successful career in today's highly competitive music industry is very challenging. Modern musicians have to ensure their presence on all popular platforms like Apple Music, SoundCloud, Amazon Music, Spotify, and YouTube Music. At the same time, they have to engage with their fans and listeners across diverse social media platforms including Facebook, Instagram, TikTok, and Twitter.
However, the problem with websites like Instagram and TikTok is that users can add only one link to their profiles. This is quite embarrassing because you can't divert traffic to different channels and platforms with one link. To address this solution, we bring an amazing link in bio tool named LinkOne. It allows musicians to gather their desired links at one place and change the way their creation is valued.
Let's further explore the unique features of LinkOne that make it the best bio link tool for 2022.
What is Link in Bio?
If you are a regular social media user, you must have noticed that there is an option in your profile where you can add a third-party link. This clickable URL is called "link in bio" that works as a call to action and drives social media traffic to other pages.
Take a look at below example. The red arrow is pointing towards the link in bio added by the Instagram user to its profile. When profile visitors click this link, it will take them to an external website. This way, artists, musicians, celebrities, and content creators can showcase their creativity and inspire their target audience by diverting them to their desired websites.
Why Do We Need a Link in Bio Tool?
Although "link in bio" is a useful feature offered by popular social networking platforms, it also has some limitations. For instance, Instagram, TikTok, and Twitter users can add only one bio link to their profiles. This link can be their social media page, personal website, or anything else that suits their requirements.
This is where the problem starts. Since most influencers and professional artists have multiple social media platforms and channels, they cannot add more than one links to their bios. Just one link means limited outreach on social media that ultimately results in limited growth.
The best solution to this problem is link in bio tool where you can create one common link connected to multiple accounts and upload that link in your bio. This way, users can explore your creativity on different channels by clicking that one bio link in your Instagram profile.
LinkOne – The Best Link in Bio Tool of 2022
Introducing LinkOne, an ultimate link in bio tool with advanced functionalities and user-friendly interface. Here, you can share your creative content including videos, paintings, songs, movies, animations, and infographics.
Most importantly, the tool allows you to feature your best content to attract potential buyers and increase your brand value. Similarly, artists can also build a media deck for themselves and invite leading brands or sponsors to establish long-term professional relationships.
Key Features for Musicians
If you are a musician and looking to expand your outreach via social media, LinkOne is made for you. This state-of-the-art link in bio tool comes with powerful features that help musicians outperform their competitors and expand their fan base in short time.
Here are some exclusive LinkOne features that can help you stand out in the global music industry:
1. Links
LinkOne has an exclusive feature called Links, which allows users to add as many links to their profile as they want. Being a musician, you can use this feature to automatically detect and display an album across all music streaming services. This way, you can make sure that your fans can listen to your music on their preferred music platforms.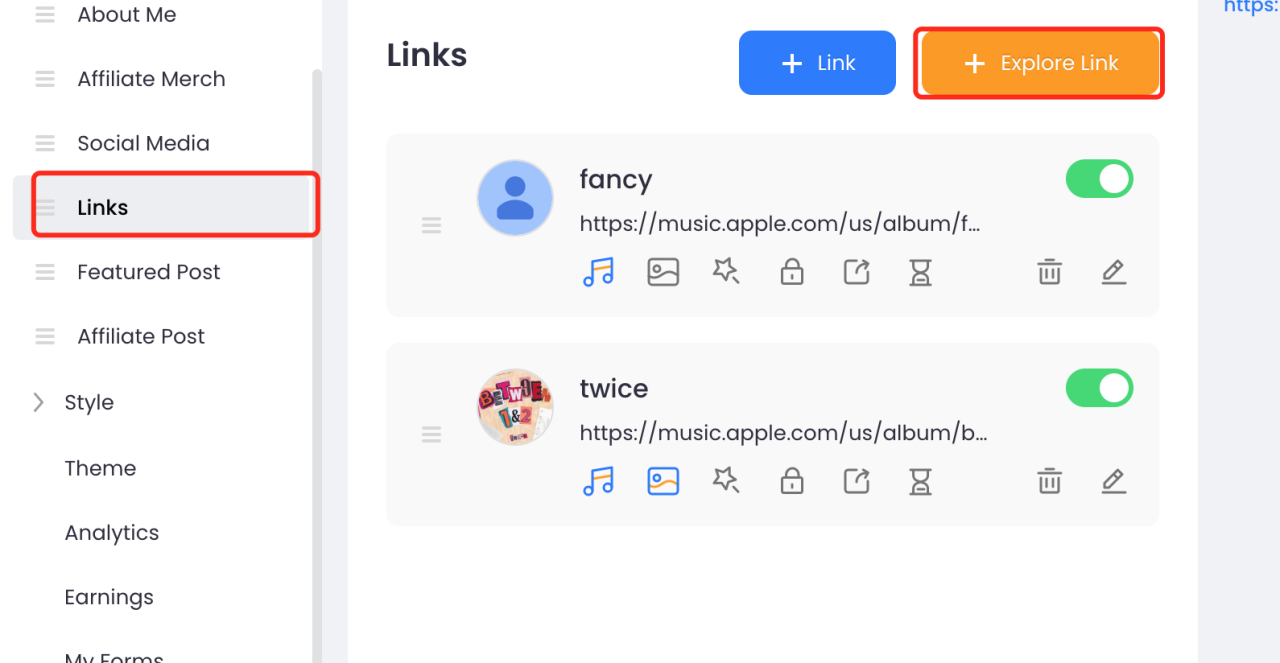 Similarly, you can also use the Explore Link option to connect your content to video links, header text, or image links as shown in the figure below: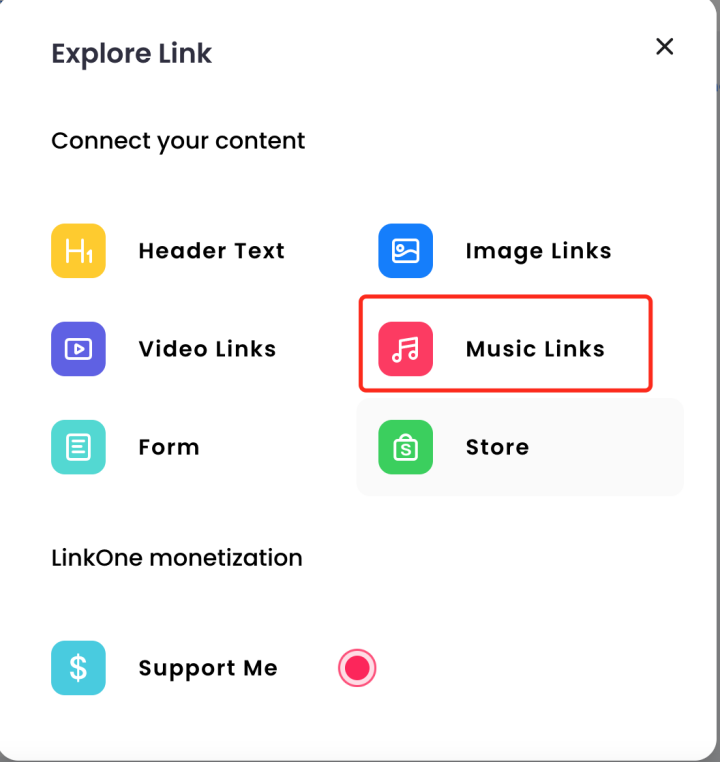 For example, if you have chosen a music link, you can add multiple music platforms so that your audience can select their preferred channel. Eventually, you can diversify your target audience and give them the flexibility to make different choices as per their preferences.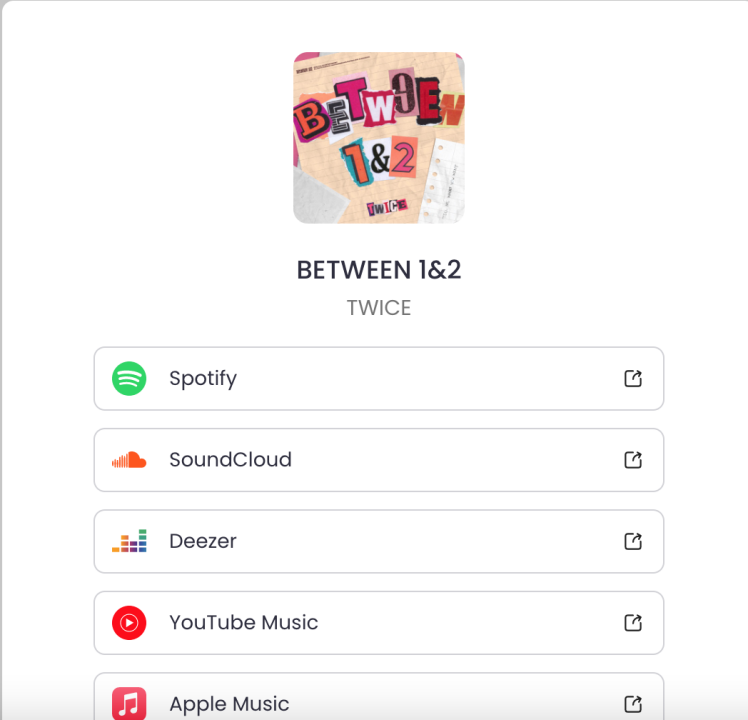 2. Monetization
Unlike other link in bio tools, LinkOne allows its users to monetize their bio links and earn money by inspiring audiences with their creativity. Through LinkOne Monetization feature, you can sell your concert tickets directly by adding the purchase link in your link bio.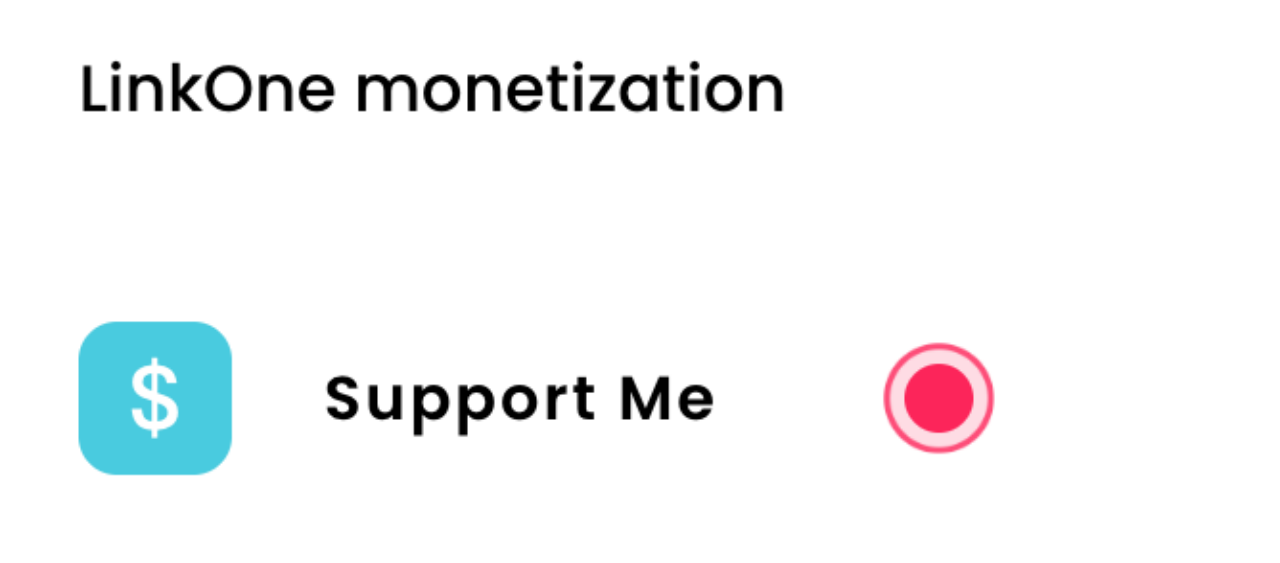 3. Embed Music Video
Are you proud of a song you recently released and want your listeners to enjoy it more? Embed that song or music video and allow your fans to enjoy it directly on your page.
4. Priority Links:
Bring your most inspirational music videos, songs, or similar content to the top by creating a highlighted link. The feature is perfect for both single release and batch announcement.
5. Multiple Social Icons
Never lose a single listener, keep them engaged across multiple music platforms and social media channels including SoundCloud, Spotify, YouTube Music, Instagram, Facebook, TikTok, and much more.
---
More tutorial of LinkOne, please check here:
A comprehensive introduction of LinkOne:LinkOne – The Best Instagram Link in Bio Tool for 2022
Use LinkOne : How to set a featured post in LinkOne step by step
Understand LinkOne Data: The analytics of LinkOne
We proudly recommend more FREE tools for you: