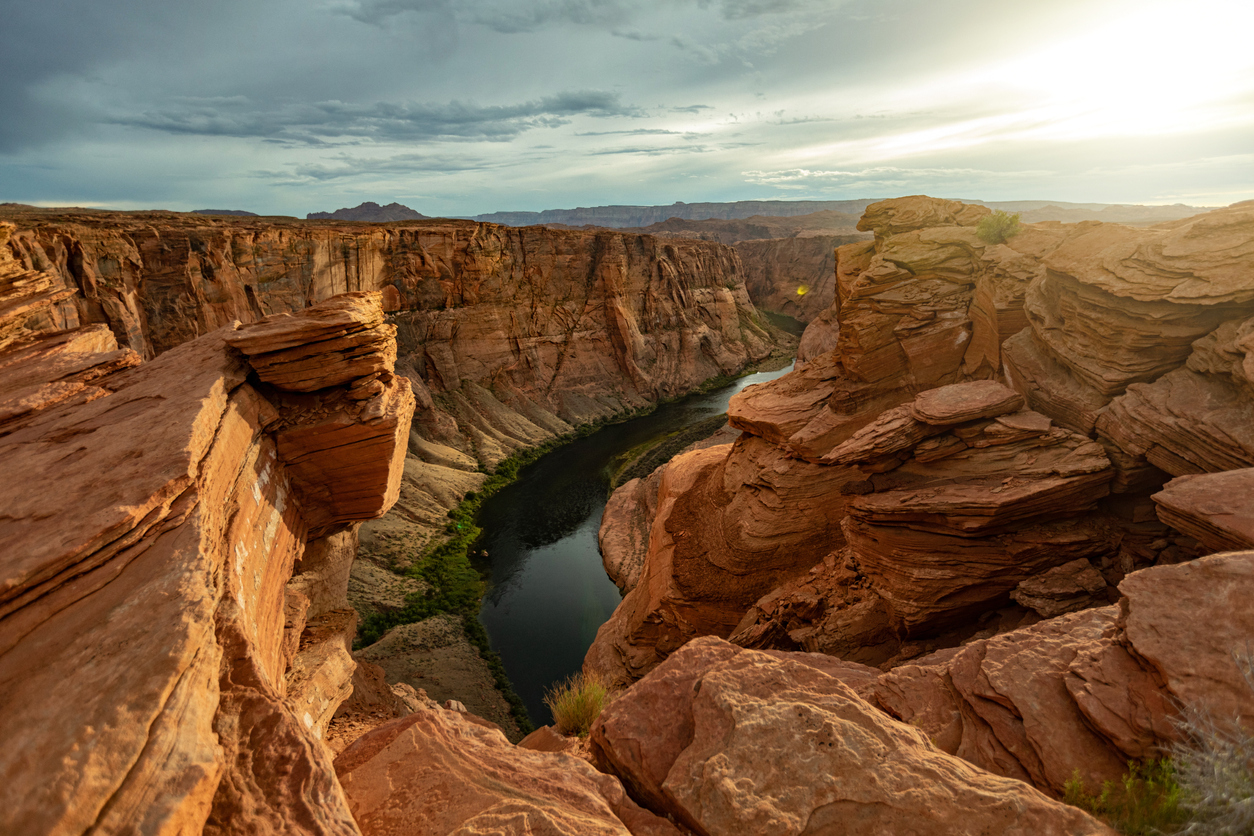 The long arm of the law hit back after TikTok influencer Katie Sigmond whacked a golf ball into the Grand Canyon and lost her club in the process. Sigmond had been filming for her audience of 7 million followers back in October, and her (apparently since-deleted) posts drew hundreds of negative comments. Tips from the public eventually helped law enforcement charge her with littering and "creating hazardous conditions with disorderly conduct," according to the New York Times.
Grand Canyon National Park social accounts had originally responded with the weary-sounding reprimand, "Do we really need to say, 'don't hit golf balls into the Grand Canyon?'"
Maybe we do.
Sigmond was cited for disorderly conduct and tossing or throwing items into the Grand Canyon, "​​which carry a maximum fine of $5,000 and six months in prison," according to the Arizona Republic. She was ordered to pay a $285 fine.
Why it matters: Influencers go to great lengths to get attention — check out YouTube's newly released top trending videos and creators in the U.S. for 2022 for a reminder of how vital creator culture is. But there's risk to the schtick; real harm could have come to wildlife or other hikers from Sigmond's ill-advised swing-and-a-miss. Here's hoping 2023 influencers keep it classy..
Newly released Facebook data gets meta on the zeitgeist
Meta's Transparency Center released its Q3 2022 "Widely Viewed Content" report along with a friendly reminder that even the most widely viewed Facebook content represents only a teeny drop within the oceans of content available on the site.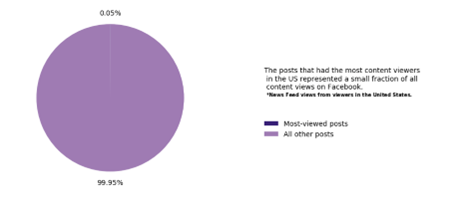 With that caveat purple pie-charted in place (along with in the caveat in the companion report that it includes data from U.S. viewers only, and doesn't include ads), the report offers a peek into what, exactly, people were looking at on Facebook this quarter.
That seemed to be an assortment of mostly benign brain candy — the report's list of the quarter's top 20 posts favored things like a post with 40.4 million views of a door cam capturing the pure and wholesome let's-be-friends moment between an Amazon delivery driver and a cute dog Other popular posts: an Instagram reel drone shot of a boogie boarder gliding through a shiver of leopard sharks (#sharksarefriends), a metamorphosing memorial slideshow tribute to Queen Elizabeth, and Netflix's August trailer tease for "the girl of your nightmares," Wednesday Addams.
Why it matters: Meta is trying to make good on their promise to do better and be better when it comes to transparency, as described by VP of Integrity Guy Rosen in late November 2022. Aside from Rosen's slightly Orwellian title, it's a step toward credibility and in the meantime, helps communicators better understand what content speaks to wide audiences on Facebook. Notably absent from the list of top 20 posts were ranty political screeds or deeply politicized content.
The storytelling secrets of Augustinus Bader
How did a skin care company go from a 2018 startup to celebrity fave? The NYT's gloss on Augustinus Bader shows the importance of telling a story through every aspect of your brand.
Augustinus Bader started out with just three products — the Cream, Rich Cream, and Body Cream — and a founder with serious "scientific allure," Professor Augustinus Bader of Germany. His secret anti-aging treatments originally attracted rich patrons to clinics in Leipzig, a fact that created an early gleam of mystique for the brand.
And that mystique was carefully cultivated. For instance, there is a real Augustinus Bader, the company's co-founder, who looks straight out of "central casting." He's a medical doctor, but goes by "professor," as that title outranks MD in his native Germany. He started wearing a bowtie because he noticed many American doctors did.
As the New York Times puts it:
Augustinus Bader's royal blue and copper packaging catch the eye on the bathroom sink. The look is regal, aristocratic and medicinal, printed with a mouthful of a name evocative of olden times. It's easy to picture Professor Bader hunched over a microscope or thumbing through medical journals in a lab or library in a land far away. The deep shade of blue was chosen for a starry night sky. Copper is a medicinal metal.
All this careful cultivation of image has helped attract a roster of clients that includes Melanie Griffith, Courtney Cox and Gwyneth Paltrow — further adding to the cachet of the brand.
Lesson learned: The article concludes that "Storytelling can be as powerful as, if not more than peptides." It's hard to beat a combination of star power and science, paired with a decent product…and, perhaps, gorgeous packaging.
Pros and cons of Twitter alternatives
Twitter has been aswirl (afire?) with changes this fall, with Elon Musk's takeover resulting in mass layoffs, previously suspended users coming home to roost and an overall panicked user population. But where to go, if anywhere, instead? That remains to be seen, although people are starting to evangelize alternatives. The Verge covered some options:
Post
What's happening: This site is up and running as of Nov. 14, with a Twitter-like feel and a focus on "premium news" and "rigorous" content moderation. Users will be able to buy articles and tip creators whose content they like.
Caveats: Apparently there's a waitlist of 335,000 people, and vigilant content moderation is slow-going.
Hive
What's happening: The "intuitive Twitter clone" hit 1.5 million users in November 2022.
Caveats: Some security issues, and some concerns about bot activity.
Mastodon
What's happening: Intentionally decentralized, with "dozens of instances, each which runs on their own servers, has their own administrators and moderation policies, and is located at different websites."
From The Verge:
The big idea behind Mastodon, though, is putting users in charge and letting them create their own (sometimes special interest) spaces, instead of a company that unilaterally controls the software and moderation.
The site has been around since 2016, and is rapidly adjusting to a changing landscape.
Caveats: The decentralized format can be confusing, and the different rules for each server can cause confusion and uneven moderation.
The Narwhal Project
What's happening:  They're scoping out what makes other sites appealing (Twitter, Facebook, et al.) while also adding new features. We do know that they want to prioritize the "quality" of conversation.
Caveats: The new site isn't public yet, and new features aren't necessarily known yet.
Why it matters: Twitter's many problems have made users wary of continuing to use the service in the future, but right now there's not a clear alternative. Start experimenting with these services now in case Twitter does implode fully — or at the very least, reserve your organization's brand names to prevent squatting.
COMMENT