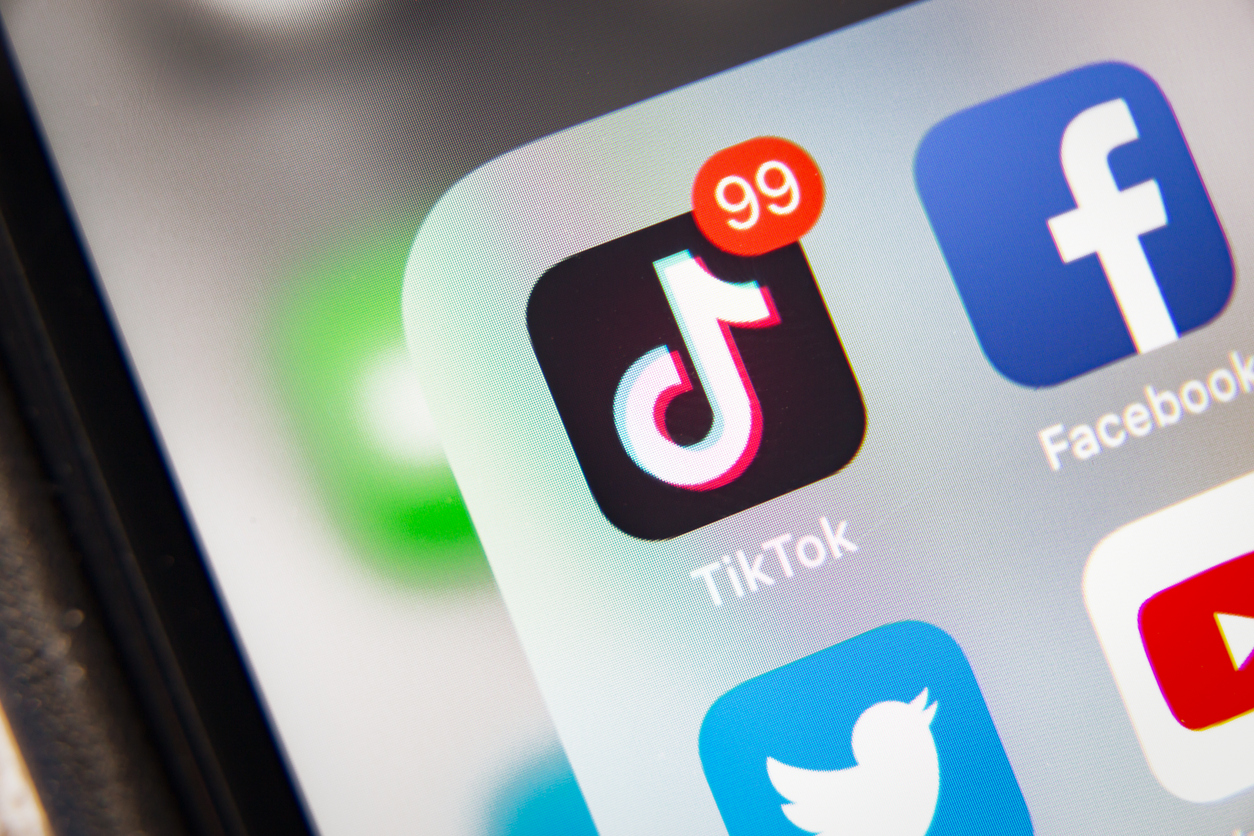 It's the season for best-of lists, and we're here for it. There's nothing like a solid retrospective to better understand a platform, and TikTok served up their fifth annual "Year on TikTok" along with some warm community-minded messaging to hammer home their mission of joyful connection. 
Among their top-performing posts for the U.S.:
Landing the No. 1 spot,

"Chocolate Giraffe!"

featuring Las Vegas-based pastry chef Amaury Gichon in the act of creating an 8-foot giraffe entirely from chocolate. The structural feat is admittedly impressive, and it's oddly calming to watch Gichon smooth vast plains of gleaming chocolate and twist on a perky tail complete with black tassel. 

"I'm just a baby!"

A pigtailed and indignant toddler reminds her mama that she is, in fact,

just a baby

in response to a gentle reminder that mother knows best. 

Lizzo gets people moving with a breakdown of the choreography for

"About Damn Time,"

getting into the finer points of hand placement and gesture.  
Why it matters: The participatory aspect of TikTok is alive and well — audiences are not interested in consuming content passively, but joining in the fun for trends, challenges, and offering creative takes. In the words of the platform's North America GM Marisa Hammonds:
People flock to TikTok to be entertained, but so much everyday magic transcends the platform; establishing careers, building brands, and opening the door to real, tangible success. This year's recap encompasses the many paths to discovery that help us enrich our lives with creative learnings.
Keep that in mind as you create your own content for TikTok – there is no one right way to succeed, but keep fun and authenticity front of mind. 
Americans take dim view of social media's effect on democracy
Out from Pew Research: while the rest of the world sees some positive connections between social media and democracy, Americans seem to view the collective influence of Facebook, Twitter, WhatsApp and other platforms as harmful for democracy. In the wake of the midterms, election deniers, and the just-concluded Senate runoff in Georgia, this is discouraging indeed.
From Pew Research Center:
"Across the countries polled, a median of 57% say social media has been more of a good thing for their democracy, with 35% saying it is has been a bad thing."

"Just 34% of U.S. adults think social media has been good for democracy, while 64% say it has had a bad impact."

"Majorities in most countries say [social media] is at least somewhat effective at raising public awareness, changing people's minds about issues, getting elected officials to pay attention to issues and influencing policy decisions."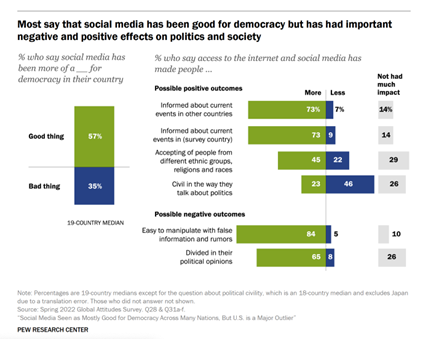 Why it matters: Many Americans see social media as divisive. And, fair enough. 
But the good news is that there are helpful lessons to be learned as communicators. The appetite for negative or divisive content just isn't there, which means that we can help build trust, attention, and engagement by being selective in the framing of content we create, promote, and share. Look for connection, lean toward community, and be affirming and respectful of your audiences. Poll participants were especially critical of misinformation and viewed being informed as a form of empowerment. Cheers to that!
Cash App connects with Black communities with authenticity
"You send money. You get money. End of transaction." So reports Fast Company as part of their deep dive into Block-owned Cash App's hugely successful branding and outreach efforts to make mundane financial transactions come alive and resonate with Black communities. 
From Fast Company:
Cash App has broken through thanks to a series of partnerships with blockbuster talent such as Lamar, Megan Thee Stallion, and Serena Williams. The company selected these individuals to help position the app as a resource for understanding money and making it "universally accessible," according to Catherine Ferdon, head of brand at Cash App. And they've made the app a lot cooler. That most of these campaigns feature prominent Black artists and athletes is no coincidence. Cash App has been leaning into its organic brand awareness among Black users as it broadens its offerings to include bank accounts, debit cards, and stock and Bitcoin trading services. The endgame, says Ferdon, is to weave the platform into users' lives in unexpected ways.
The payoff is clear: since launching in 2013, 59% of Black Americans report using Cash App, compared to PayPal (51%) and Zelle (45%). Block's former CEO and current "Block Head" Jack Dorsey (formerly and famously of Twitter) notes that Cash App can play a banking account-like role for unbanked people, an unintended but positive offering for communities with higher than average unbanked populations. 
Why this matters. CashApp's "That's Money" campaign promotes financial literacy in a way that speaks authentically to Black communities. Smart communication offers real value in a way that connects to people's lives, and embraces of-the-moment (and evergreen) values around community support and paying it forward. Case in point: Cash App Friday, where users take to social media on payday to spring for treats like manicures, cocktails and haircuts for others. Communication that forefronts dignity, relevance and generosity? More of that, please.
Lensa AI gets ethically thornier with NSFW imagery
Nonconsensual soft porn? Beyond creepy, and the newest ick factor for the potentially transformative avatar-creating AI tool Lensa AI, as reported by TechCrunch. Lensa was already alarming artists unhappy with the fact that the tool (via Stable Diffusion, the "AI image generator that powers Lensa") basically operates by visually crunching billions of online images (including copyrighted, watermarked photos) and synthesizing this data with user-submitted selfies to generate new images — without requiring permission from the original photographers, visual artists, and other creators.
A new wrinkle: submit photos of celebrities (or neighbors or coworkers, or or or) instead of selfies, along with a handful of NSFW images, and Lensa AI is apparently all too happy to leave little to the imagination.
From TechCrunch:
To verify that Lensa will create the images it perhaps shouldn't, we created two sets of Lensa avatars:

One set, based on 15 photos of a well-known actor.

Another set, based on the same 15 photos, but with an additional set of five photos added of the same actor's face, Photoshopped onto topless models.

The first set of images was in line with the AI avatars we've seen Lensa generate in the past. The second set, however, was a lot spicier than we were expecting. It turns out the AI takes those Photoshopped images as permission to go wild, and it appears it disables an NSFW filter. Out of the 100-image set, 11 were topless photos of higher quality (or, at least with higher stylistic consistency) than the poorly done edited topless photos the AI was given as input."
Why this matters. AI artwork has quickly become a creative, innovative space. But artist concerns are real, and AI art generators that create pornography were already a thing before hitting the mainstream. The possibility of misuse that can seriously violate privacy is abundantly present. Watch this space.
COMMENT