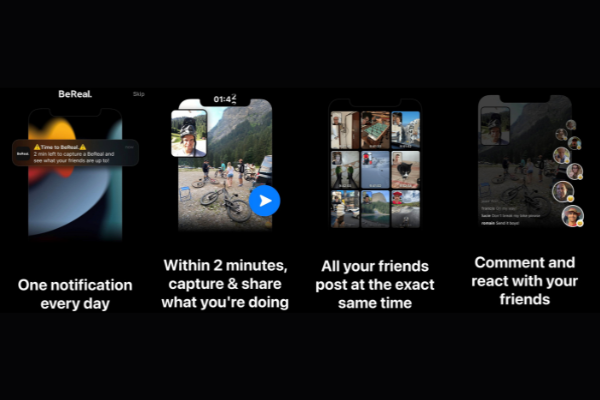 Editor's note: We are re-running the top stories of 2023 as part of our year-end countdown. This story was our fourth most-read. 
Be real. Be authentic. Be true to yourself.
That all sounds like great advice, but it's often difficult to do so on social media, when you're faced with photos and videos of influencers' expensive vacations and a constant barrage of ads and sponsored posts. What would a social media platform without influencers look like?
The app BeReal, whose user base has skyrocketed over the last few months, aims answer that question.
"Your friends for real," the BeReal website tagline reads. "A new and unique way to discover who your friends really are in their daily life." The app has grown its monthly active users by 315% since the start of 2022.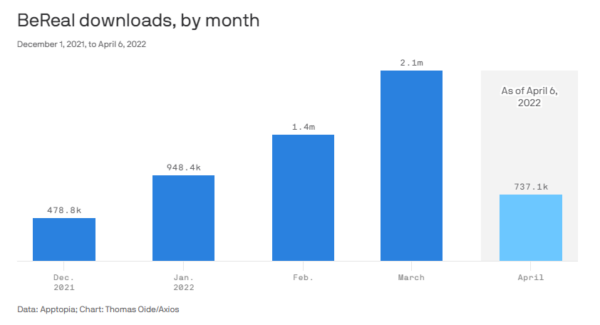 Users are prompted at different times each day to simultaneously snap a photo of themselves and their surroundings using their phone's front and back cameras. No filters. No face-altering software. Just you and whatever you happen to be doing when you get notified that it's time to post.
"Push notifications are sent around the world simultaneously at different times each day," the company said in a statement published by CNN Business. "It's a secret on how the time is chosen every day; it's not random."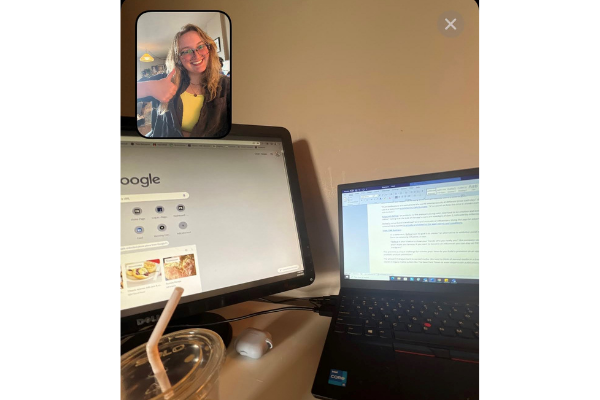 (Image via Emma Atkinson & BeReal)
Axios calls BeReal "an antidote to the pressure young users now face to be creative and look perfect online," noting that the bulk of the app's users are members of Gen Z, followed by millennials.
BeReal's setup doesn't lend itself to brand accounts or influencers, and using the app for advertising or commercial purposes is prohibited in the app's terms and conditions.
In a statement, BeReal says its goal is to create "an alternative to addictive social networks" that focus on amassing influence, it says.

"BeReal is your chance to show your friends who you really are," the company says. "BeReal won't make you famous, if you want to become an influencer you can stay on TikTok and Instagram."
The challenge for brands
This presents a unique challenge for comms pros: How do you build a presence on an app that explicitly prohibits product promotion?
It all goes back to earned media. Some PR pros might tend to think of earned media in a traditional sense — stories in legacy media outlets like The New York Times or targeted trade publications. But if the only way to get your product or service talked about on a particular platform is for users to promote it organically, you'll have to shift your influencer marketing strategy quite a bit.
Combining earned media strategy with marketing practices will be crucial to the success of your brand on a platform like BeReal. Heavily branded pay-to-play influencer marketing is waning in popularity with younger generations — and comms pros will likely have to work twice as hard to earn Gen Z's approval of your products and services.
But don't rush to put all your eggs in the BeReal basket. It's very possible that, like some other social media apps, BeReal is simply a passing fad.
Social media analyst Matt Navarra told NBC News that BeReal's popularity could be fleeting.
"I'd be surprised if it's around in a year's time," he said. "Much like the viral apps before it, they could fail for a number of different reasons."
So don't fire all your Instagram influencer partners just yet. But perhaps consider the positive impact that generating more organic buzz around your brand could have.
COMMENT
One Response to "Top stories of 2022: What PR pros should know about BeReal"
I enjoyed reading this PR analysis of such a unique and trendy social media app. In particular, I found it enlightening on how companies might use such an app for PR purposes that is not especially suited for it.