Are you an artist looking for a creative way to express yourself? Look no further than Pandora Avatar. This revolutionary new technology from Pandora Avatar allows you to create your own self-portrait with the help of AI-driven image manipulation. With just a few clicks, you can make a beautiful and unique portrait that will capture your personality and style. In this blog post, we'll explore the features of Pandora Avatar and show you how to create your own self-portrait. So, let's dive in and start creating!
What is Pandora Avatar?
Pandora Avatar is an innovative new way to create a digital self-portrait of yourself. It is an artificial intelligence avatar that can be used to create unique digital artwork, which you can use for personal projects or even as profile pictures on social media. Pandora Avatar is powered by the latest computer vision algorithms and uses facial recognition technology to accurately create your own digital self-portrait. The artificial intelligence system behind Pandora Avatar can recognize your face from different angles and lighting conditions and create a highly detailed 3D image of yourself.
With Pandora Avatar, you can create a one-of-a-kind digital self-portrait that is tailored to your preferences. You can choose your skin tone, eye color, hairstyle, and clothing to create a unique look that reflects your personal style. The possibilities are endless!
Why You Should Go For Pandora Avatar to Create AI Avatars?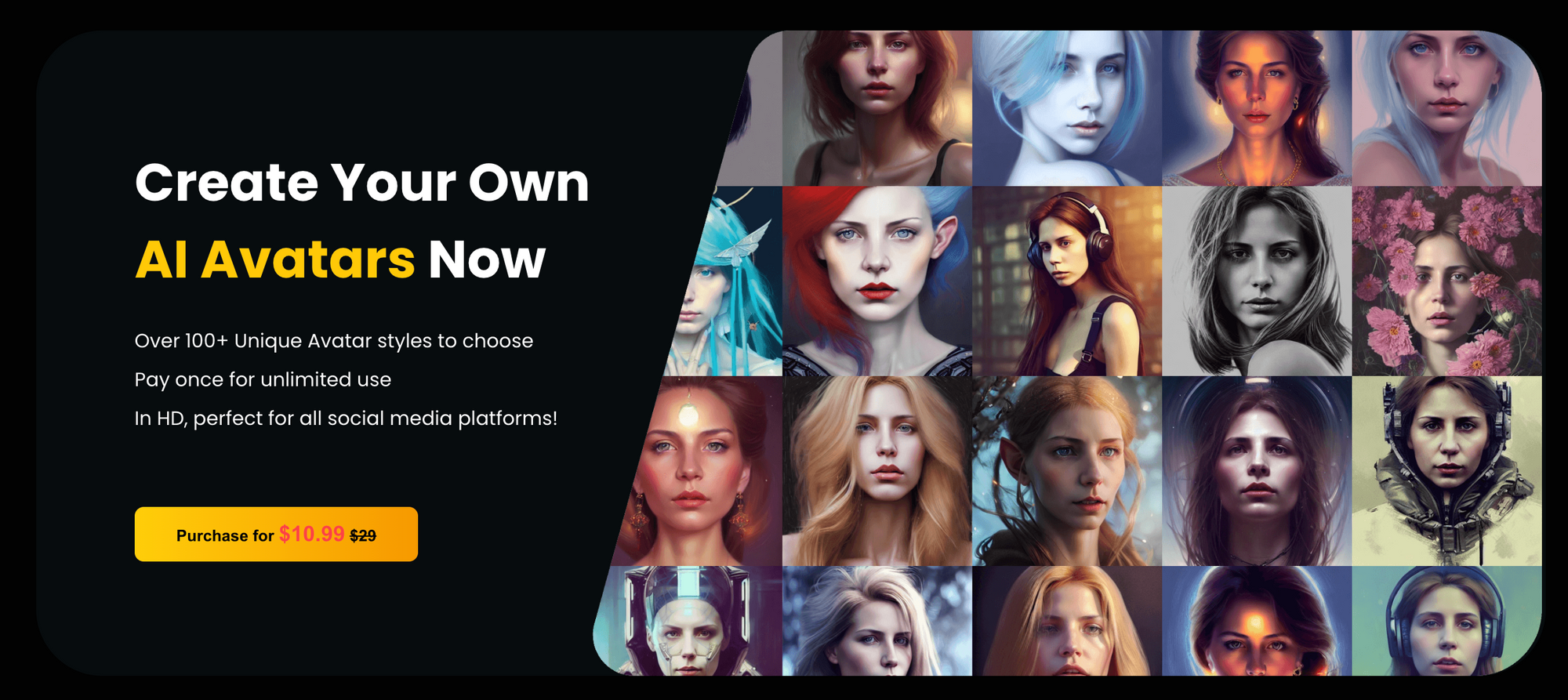 If you're looking for a new way to create your own self-portrait, then Pandora Avatar is the perfect solution. This revolutionary AI technology uses facial recognition and deep learning algorithms to generate photorealistic images of you in seconds. With Pandora Avatar, you can create your own personalized avatar that looks just like you, without needing any prior knowledge or experience in graphic design or photography.
Unlike other image-editing tools, Pandora Avatar is easy to use and requires no technical knowledge or skill. It takes just a few clicks to generate a lifelike 3D rendering of yourself. You can then use it for various applications such as creating social media posts, avatars for gaming, professional headshots, and more.
With Pandora Avatar, you don't have to worry about spending hours in front of the computer trying to get the perfect selfie. You also don't need to rely on a professional photographer to get the perfect shot. All you need to do is to upload 21 photos of yourself and let the AI take care of the rest.
Pandora Avatar is Safe – It Does not Store User Information
The safety and security of your data are of utmost importance when using any new technology. This is why the creators of Pandora Avatar have designed their system with strict data safety measures. You might be thinking that the images that you will upload will be misused and your vital information will be leaked. However, Pandora Avatar is 100% safe.
Your information is not stored permanently in the system, which means that you can delete your avatar at any time without fear of it being misused. The Pandora Avatar platform also does not collect or store user data for commercial or marketing purposes, so you can be sure that your personal information is secure.
How to Use Pandora Avatar to Create Avatars: A Step-by-Step Guide
Step 1: Log in or Sign up with SocialBook
First, go to SocialBook and create a new account. If you already have an account with SocialBook, simply enter your login info to get started.
Step 2: Open SocialBook Pandora Avatar Tool from Menu
After logging in, click "Free Tools" on the left and select "Pandora Avator."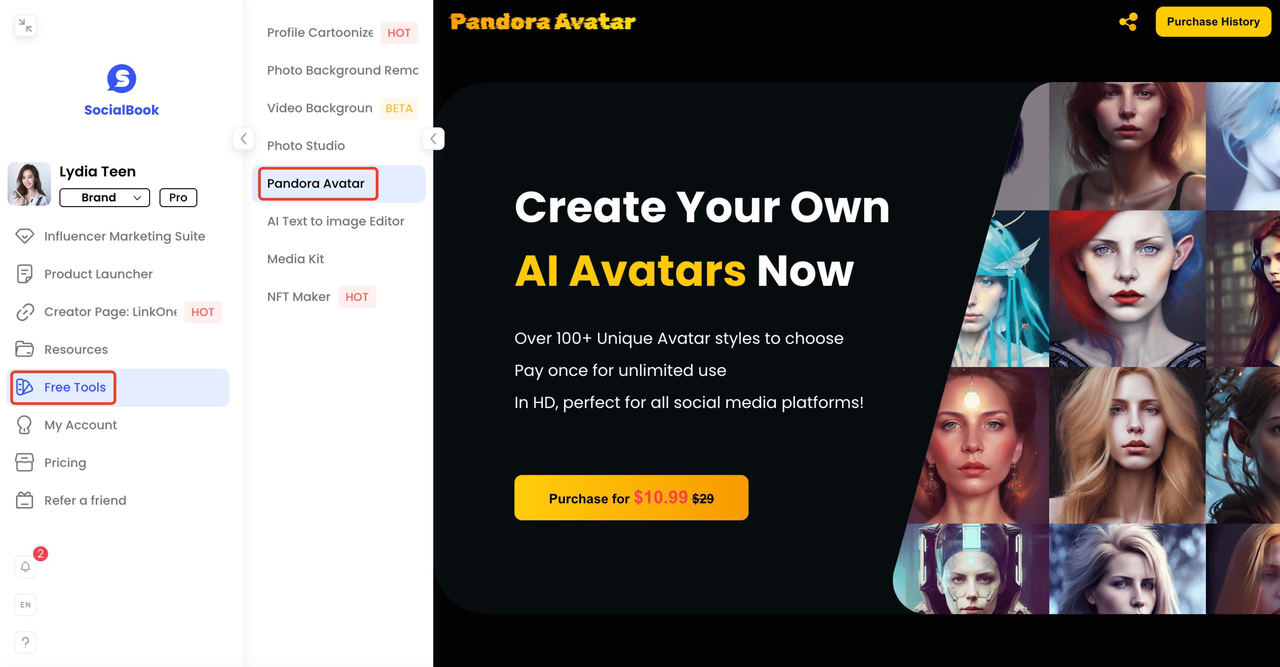 Or directly go to the Pandora Avator page from here and click "Sign in" to get started.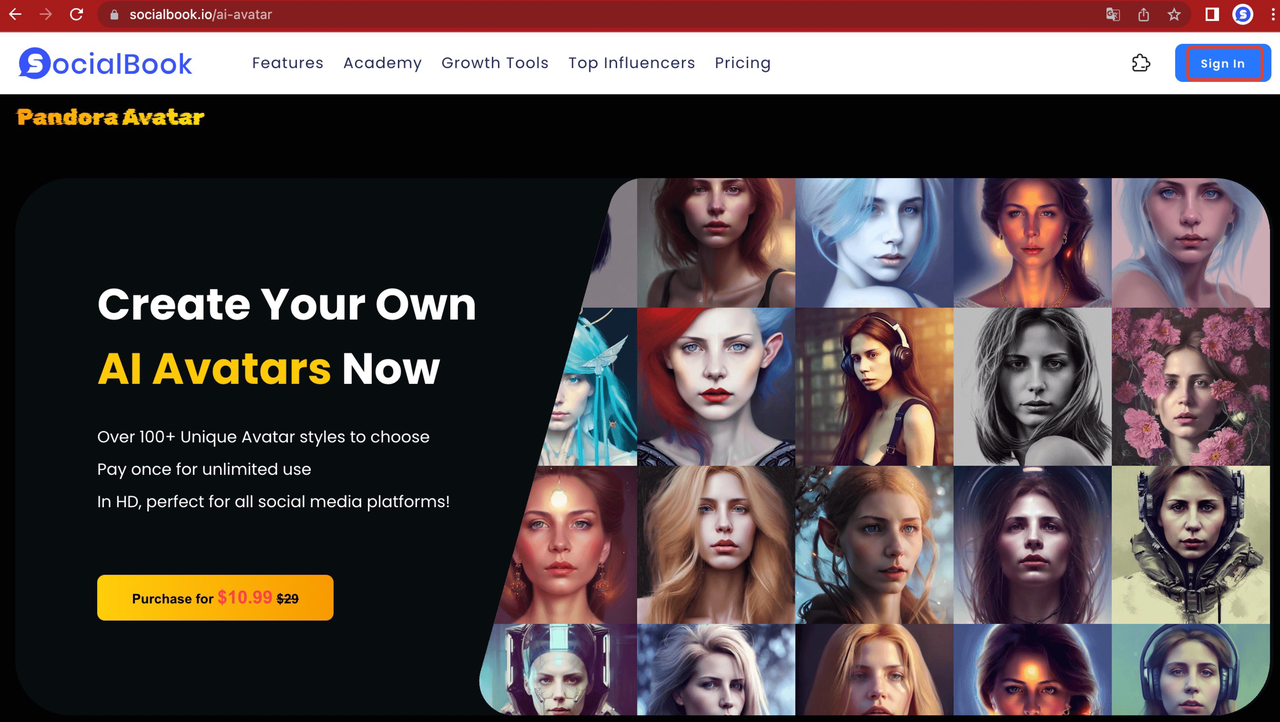 Step 3: Pay for the set you like
Click the purchase button in the center of the interface, and then a pop-up window will appear for you to choose a set you like. One is $6.99 for 50 unique avatars, and the other is $10.99 for 100 unique avatars. That is, the minimum cost of an avatar is only $0.11.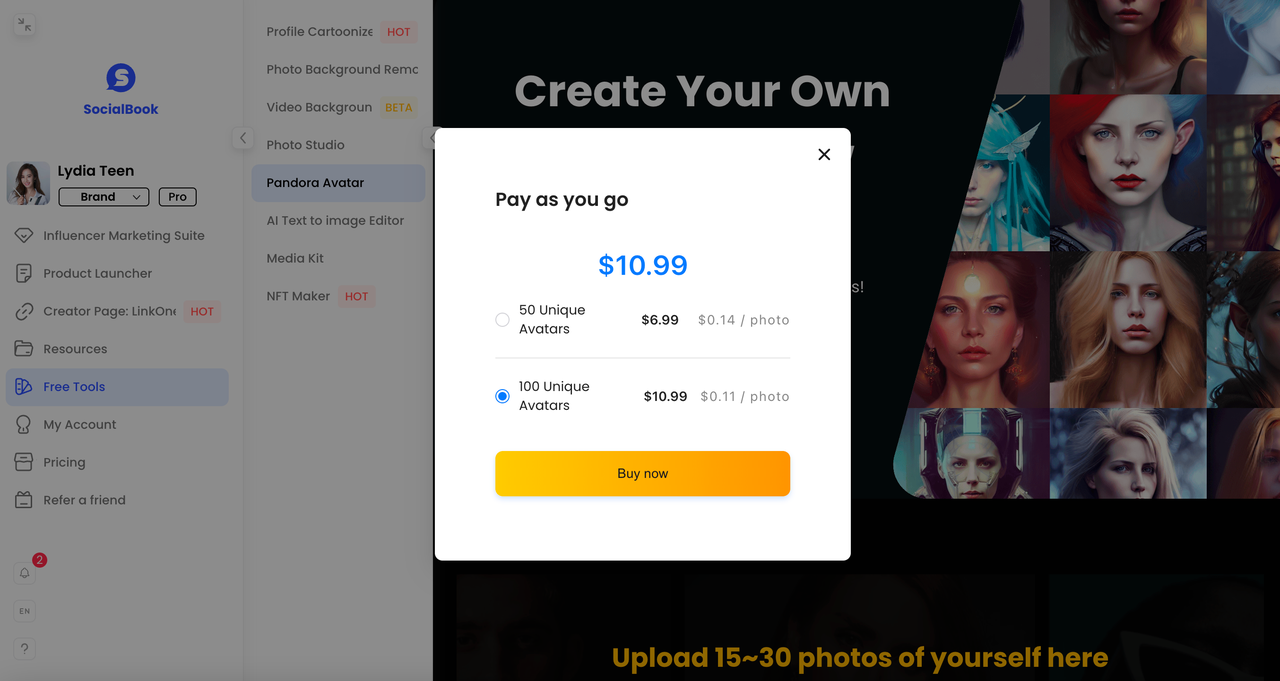 Step 4: Upload your photos to make avatars
Then it's time to upload your photos. Pandora Avatar needs to get 15-30 photos of you to make the avatars. The more photos, the better results.
The specific photo content and quantity requirements are shown in the picture below. In a word, photos with diverse expressions and scenes, clear facial features, and no redundant people are perfect.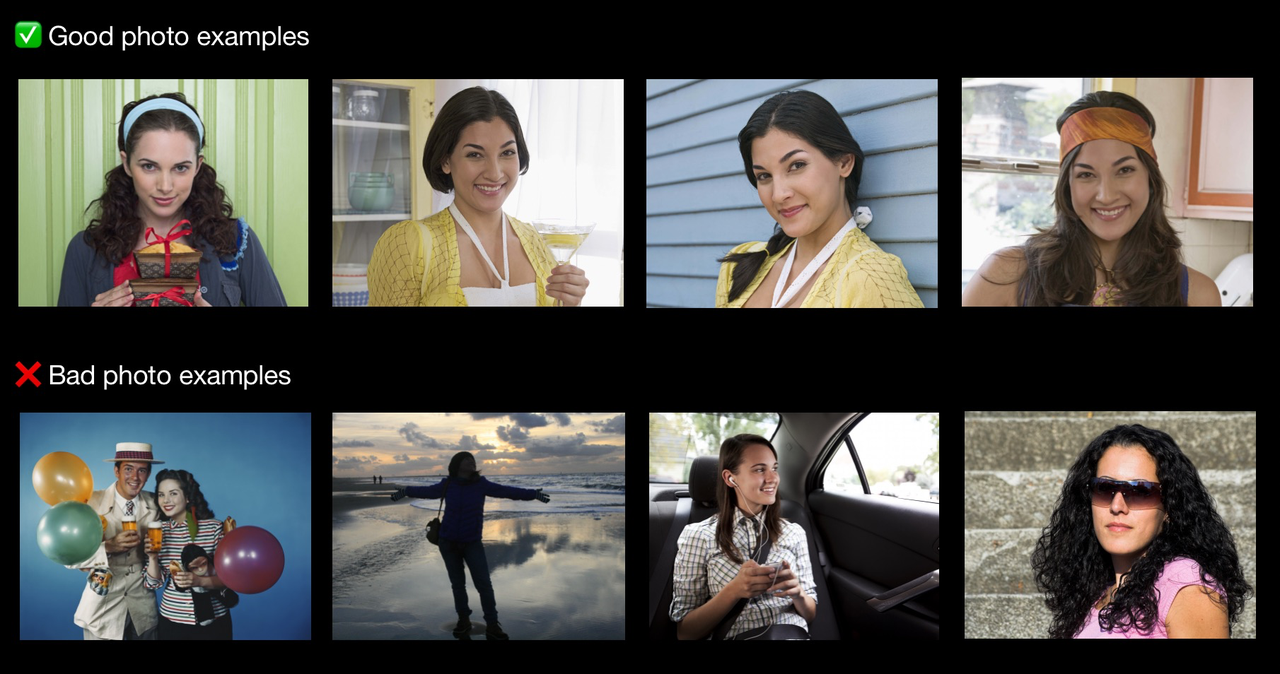 After selecting photos, you can click on the part circled by the red border or drag them directly to this part to upload your photos.
In addition, Pandora Avatar also supports the import of photos from other social media. Click the "Get Photo From My Social Media Account" to get photos from your other social media accounts ( Note: Instagram users can only import photos with a business account).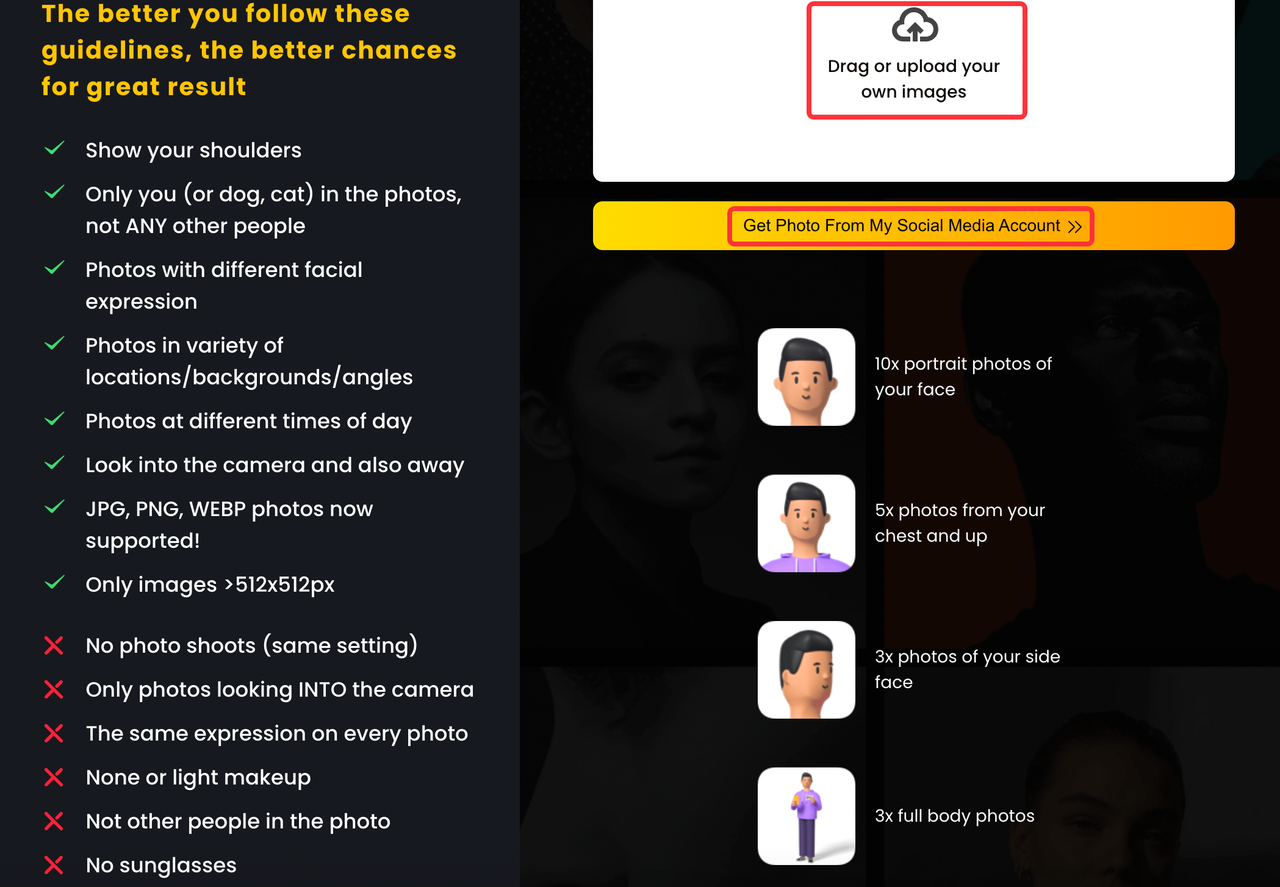 Step 5: Click "Start" and get your avatars!
Click the Start button when you finish uploading your photos.
Then a pop-up window will appear, you can give a name you like for your avatars, and select the photo type (man/woman/pet). After completing these settings, click the Submit button.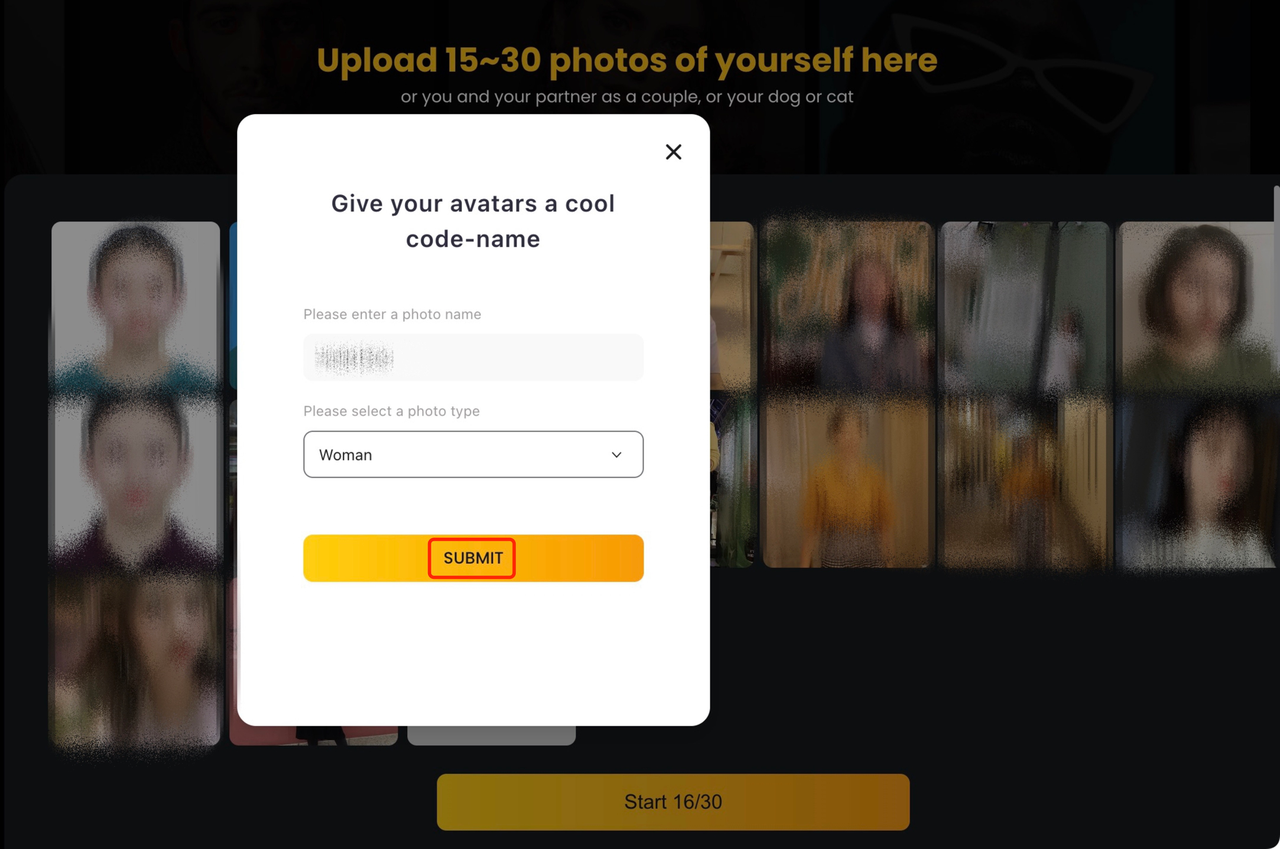 After completing all the above steps, you only need to wait for about two hours to get the awesome avatars made by our AI.
The bell in the lower left corner of the interface will remind you that the avatars are ready. You can jump directly to your avatar album by clicking on the notification.
Also, a reminder email will also be sent to the email address you registered with. You can click "Check Now" in the email to get the avatars downloaded to your devices.
The best part about using Pandora Avatar is that you don't need any additional hardware or software. All you need is a smartphone, computer, or tablet with a camera and internet connection to get started. So why wait? Create your own lifelike avatar today with Pandora Avatar!