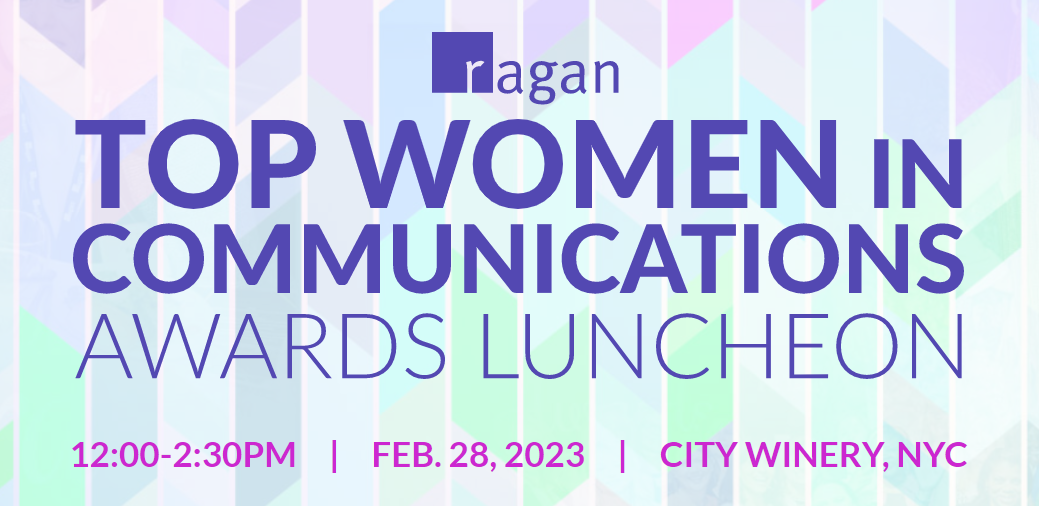 Ragan's Top Women in Communications Awards will honor the trailblazing, visionary women whose leadership in the comms field inspires all around them to drive change and cement the future of our industry.
Among this year's honorees, the Women in Communications Hall of Fame Class of '23 includes.
Kathy Beiser, senior vice president and chief communications officer, Eli Lilly and Company
Kathy Bloomgarden, CEO of Ruder Finn
Andrea Coville, CEO of Brodeur Partners
Yanique Griffin-Woodall, vice president of communicatoins, customer experience, retail, CVS Health
Maria Poveromo, senior vice president and chief communications officer, Cisco Systems, Inc
Leigh Woisard, former senior vice president of corporate public affairs, Cox Communications
When asked about their advice for young women who are just entering the comms profession, the Hall of Famers were generous with their wisdom.
Woisard explained that too many women are shy about self-promotion and seeing their careers plateau because of it. "Women are notorious for shying away from self-promotion," she told Ragan ahead the awards luncheon. "And the result that I hear from a lot of women is they get to a certain level in their career, they've had a certain amount of success, but then they start to stagnate and they find it hard to get to that next level."
Griffin-Woodall offered three specific takeaways. First, she stressed being curious. Second, she emphasized learning about the business side of communications early on. Last, and most importantly, she reminded those just starting out to give themselves space and grace.
Beiser also stressed curiosity — namely, getting outside your communications box. "Learn the business, learn the field, learn everybody else's job," she advised. "Because you're going to be talking about all of those things. Be a great communicator, that's fine. But the real value comes when you have a seat at the table, and you're talking about the business, you understand the business, you are a better counselor."
Poveromo offered a reminder that compassion, empathy and agility are among a communicator's greatest strengths toward business success. "Brands that communicate with emotion, compassion, and facts get rewarded," she said.
"I think it's smart to develop your identity in a specific area and decide, what do I want to be known for?" continued Woisard "And then to be very intentional about building your brand around that."
Coville kept her advice simple: "Look for a great culture. It's the single most important thing. Just find your fit."
Bloomgarden thinks of the advice her father, founder of Ruder Finn, gave her: "Just because you don't know how to do something, doesn't mean you can't." More young people, and especially women, should adopt this mentality, she said. "Raise your hand, speak up, be proactive, don't be afraid to make mistakes and be wrong, just be present and you will reap rewards. Think deeply about your expectations, your lifestyle, and your goals in work and in life, and making intentional and realistic choices based on these well thought through goals."
The Hall of Famers, and other winners of Women in Communications awards, will be honored at an in-person ceremony in New York City Feb. 28. See the full list of honorees here.
COMMENT