What is SocialBook Creator Affiliate Program?
The SocialBook Creator Affiliate Program is a great way for content creators, influencers, and bloggers to earn money from their talent and traffic. You can promote various software products for creators from SocialBook, similar to Amazon Influencer Affiliate. All you need is a unique affiliate link to recommend the online tools to your audience and earn commissions from qualifying purchases.
The Top 5 Benefits of Joining the SocialBook Creator Affiliate Program
Benefit 1: Additional and Passive Incomes
By joining our affiliate program, you will have the potential to earn additional income by promoting SocialBook online tools on your channels. You receive a commission for every purchase that occurs through your unique affiliate link. Once you have established a steady flow of traffic to your website or social media channels, you can potentially earn passive income from your affiliate promotions. This means that you can earn money even while you're not actively promoting these products.
Benefit 2: No Inventory or Shipping Responsibilities
You will promote our online tools, so you don't need to worry about handling any product inventory or shipping. And SocialBook team will cover all the customer service for the customers you bring in.
Benefit 3: Free to Join
It's totally free to join our affiliate program. We do not charge any fees from you.
Benefit 4: Highly Flexible
Our affiliate program offers a great deal of flexibility in terms of how and where you promote our products. You can choose to promote them through your website, social media channels, email marketing, or other channels that suit your audience.
Benefit 5: Minimal Risk
Since you're not responsible for creating products or handling customer service, there is minimal risk involved in being an affiliate. You can focus on promoting products and earning commissions.
An Easy Step-By-Step Guide to Join SocialBook Creator Affiliate Program
Step 1: Sign Up
Join thousands of creators, influencers, and bloggers who are earning with the SocialBook Creator Affiliate Program. Please sign up via this link to get started!
Step 2: Activate Your Affiliate Link
After the sign-up, click "Become an Ambassador," which is the last item of your main menu on the left. Feel free to customize your "Affiliate Code" and click the "CREATE MY AFFILIATE LINK" button to activate it.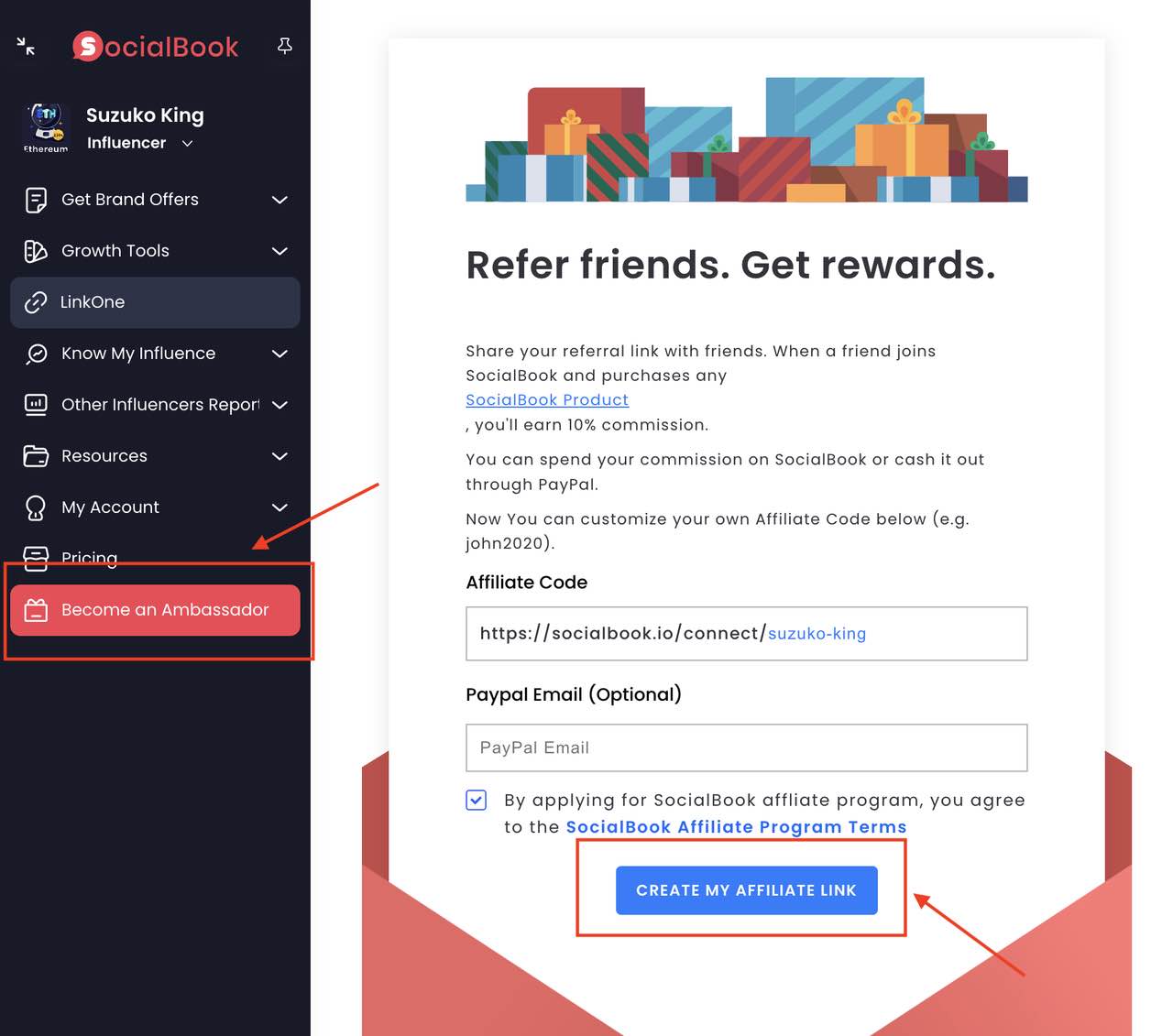 Step 3: Create Your Promotional Content with the Affiliate Link
Once you activate your affiliate link, you will have access to all the tools you need to promote our products. Simply click the "Copy" button to get the affiliate link for the product of your choice. Then, create engaging and informative content in any format – video, blog, tweet, etc. – to share with your audience and encourage them to try our products. You will earn a commission from every purchase they make through your affiliate link.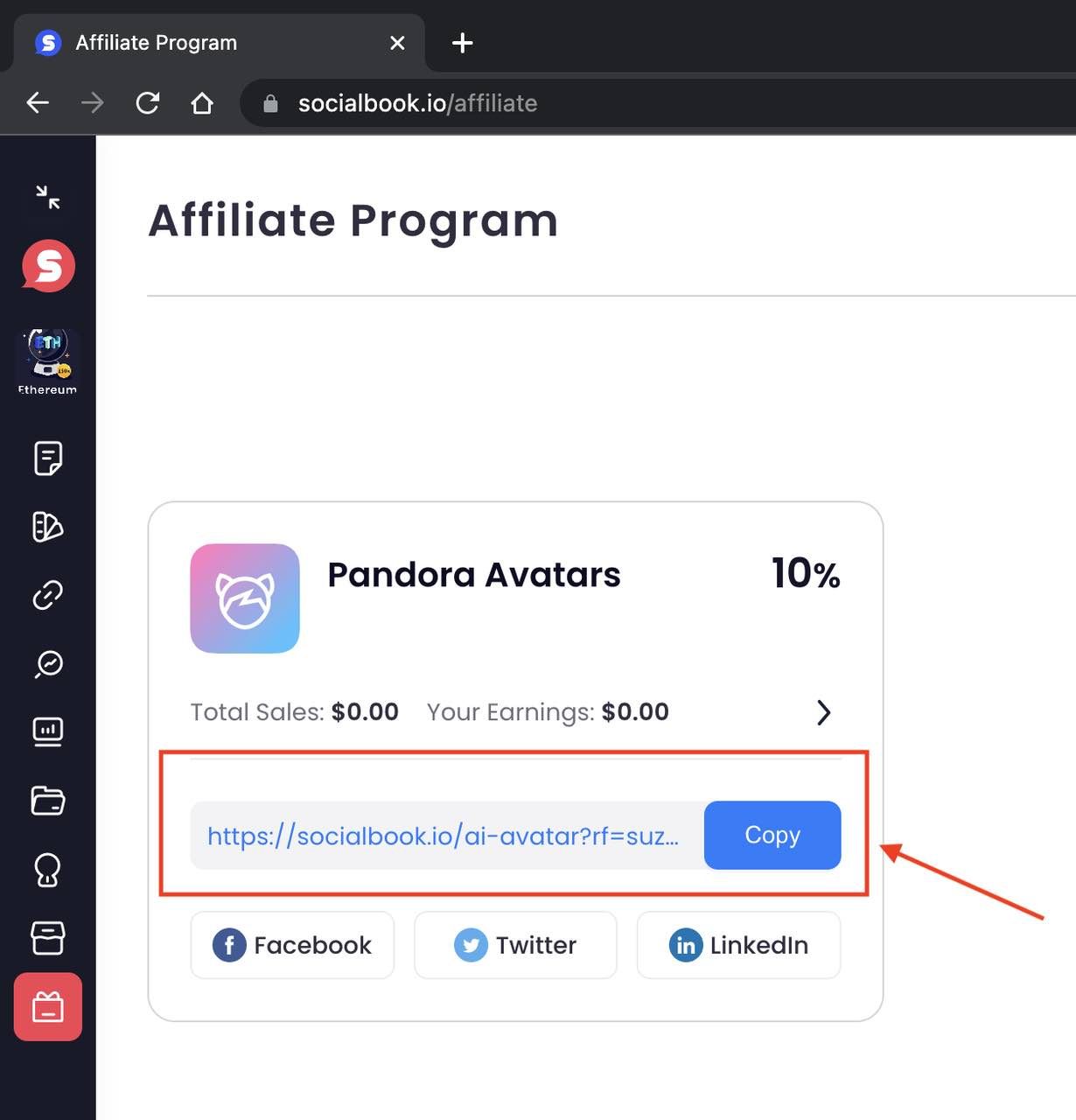 Step 4: Come Back to Check Your Commissions
With your unique affiliate link, you can earn up to 20% in associate commissions from qualifying purchases. Don't forget to check your commissions after sharing your content and link.
Frequently Asked Questions
How to earn with SocialBook Creator Affiliate Program?
You earn from qualifying purchases through the traffic you drive to SocialBook online tools. Commission income is paid approximately 30 days after the end of the month in which it was earned. Get started right now →
How will I get paid by SocialBook Creator Affiliate Program?
The commission will be calculated and displayed in your SocialBook account under the affiliate page. You can withdraw your commission to your PayPal account.
How do I qualify for SocialBook Creator Affiliate Program?
Content creators, social media influencers and bloggers with a qualifying website or social media channel can participate in this program.
How do I sign up to the program?