Come on, Barbie, let's go, party!   
The highly anticipated "Barbie" movie, set to debut in theaters this July, is already making a huge splash on social media with the help of its colorful, ironic posters that are almost as good as the trailer itself.   
Meet our Barbies and Kens ✨@BarbieTheMovie pic.twitter.com/a93Rt9zLoQ

— Warner Bros. Pictures (@wbpictures) April 4, 2023
="none"> The posters show different Barbie variations giving main character energy as the lackluster Kens are humorously relegated to the background with bland descriptions.
"He's just Ken," says one poster featuring Ryan Gosling.  
"You've got Margot Robbie as Barbie and Ryan Gosling as Ken — but they aren't the only Barbies and Kens in the world! Issa Rae, Dua Lipa, Emma Mackey and more are all playing different versions of Barbie, and their character posters helpfully let you know what they're up to," a Mashable article explains.   
Rae plays Barbie as president, Mackey's Barbie is a Nobel Prize winner in physics and Robbie's poster notes that "Barbie is everything.".   
Meet our Barbies and Kens ✨#BarbieTheMovie pic.twitter.com/KO2pwszXNJ

— Barbie Movie (@barbiethemovie) April 4, 2023
On April 4, Warner Bros. Pictures tweeted about the "Barbie" movie and its posters receiving lightning-speed responses from people like Josh Super Mario Bros Movie #BlackLivesMatter: "I love that the #Barbie posters instantly become a viral meme! All of the Barbies & Kens look so fabulous!"   
Why it matters: The engaging "Barbie" posters brought out the kid in all of us with its viral social media launch. This summer movie and poster debut is one that was thoughtfully communicated with the perfect amount of pink flair and self-deprecating humor that will more than likely keep even Barbie haters engaged. The creative designs made everyone want to take part and create their own posters, further sharing the Barbie message on social media and acting as free advertising for the movie.   
How can you get people engaged in your story and spread your message simply because it's fun, interesting, or useful?   
Dairy farmers seek ways to get milk to Gen Z  
The dairy industry has seen better days. Gen Z and Gen Alpha simply don't drink milk like previous generations did, though they do still eat cheese, ice cream and other dairy foods. 
The New York Times reported that the love of milk for many youths has grown cold because of the bevy of beverage alternatives available for a health-conscious consumer base who never really saw that much of a need for milk to begin with.   
"We have to reclaim milk's mojo," Yin Woon Rani, the chief executive of the Milk Processor Education Program, a marketing and education arm of the dairy industry based in Washington, D.C., told the New York Times.   
A marketing campaign, "Gonna Need Milk," has high hopes to entice Gen Z and millennials. 
The "Gonna Need Milk" campaign brought on 24-year-old Brooklyn marathoner Yvonne Zapata (who barely drinks milk herself) as an ambassador to a younger generation. It also uses the hashtag #TeamMilk and will sponsor women at three marathons this year across the nation.   
"Milk marketers have also tapped Olympic medalists, women who play football and other sports influencers who swim, climb or play street soccer," according to the article.   
Why it matters: The milk industry is trying its best to secure its somewhat shaky customer base and recoup those dwindling sales. Being able to connect with core audiences and discover why they don't like a product can help a company or industry see what changes they need to make in either their marketing strategy or communications rollout. While drinking milk has been little to no priority for Gen Z and even millennials (guilty as charged) you have to admire the dedication and creativity in how the milk industry is looking to come back stronger. We can raise our glasses to that.   
Frito-Lay and Quaker go green   
Frito-Lay and Quaker announced on Tuesday the opening of an industry-leading Greenhouse Learning Center at its R&D headquarters, according to a press release.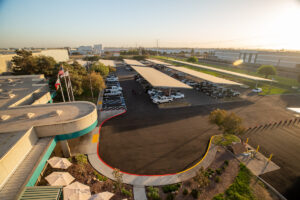 The Learning Center will be a place to field test, measure, and analyze compostable packaging to speed up the "rate of innovation."    
The facility is part of an effort to achieve a goal to make 100% of packaging recyclable, compostable, biodegradable or reusable by 2025.   
"Our sustainable packaging vision is to build a world where packaging need never becomes waste," said Denise Lefebvre, senior vice president of R&D for PepsiCo. "We're actively changing our own compostable snack packaging technologies. By sharing these technologies, we're inviting the industry to make these changes as well. We are prioritizing, investing in and expediting projects to build a more circular, inclusive economy."    
The facility is also the first Frito-Lay manufacturing facility to "implement site-wide alternative fuel vehicles" among other "green" features like employee electric vehicle charging stations.   
Why it matters: Consumers are extremely interested in green technology. This facility demonstrates that commitment and will hopefully help them meet an aggressive sustainability goal. The facility will serve a key PR function, perfect for future photo ops, press conferences and other activities that further their green goals.   
Beauty on and off the court  
Female college basketball players are becoming hot new beauty influencers, Boardroom reported.  
They're becoming all the rage on social media, especially with the Women's NCAA Tournament gaining new fans and players like Deja Kelly, and Angel Reese gaining prominence.   
 "The definition of what it means to be an influencer, especially in the beauty, style, and fashion industry, has evolved over the course of several years from the aspiration of perfection and society's standards of beauty to a more approachable, relatable aesthetic in an effort to connect with the brand's audiences," the article notes.  
Because of these changes, bigger beauty and fashion brands have decided to partner with microinfluencers and "favor social media personalities with a more realistic, wellness-driven, accessible appeal."  
Sheena Butler-Young, a senior correspondent at The Business of Fashion (BoF), explains the connection with basketball players.  
"As beauty brands look to grow their revenues and impact in this environment, it makes sense to partner with college students — the bulk of whom are part of the Gen Z cohort — and collegiate-level athletes, who in many ways epitomize the idea of health and wellness," Butler-Young told Boardroom.   
Why it matters: Microinfluencers are a fantastic way to gain dedicated audiences for a small investment in influencer relations funds. You can often gain more creative freedom with these up-and-coming influencers while also reaching new audiences who might have felt left out in the cold by traditional influencers, who often show off a narrow view of beauty.  
Look beyond the obvious. Be creative, break new ground and find new audiences.  
COMMENT