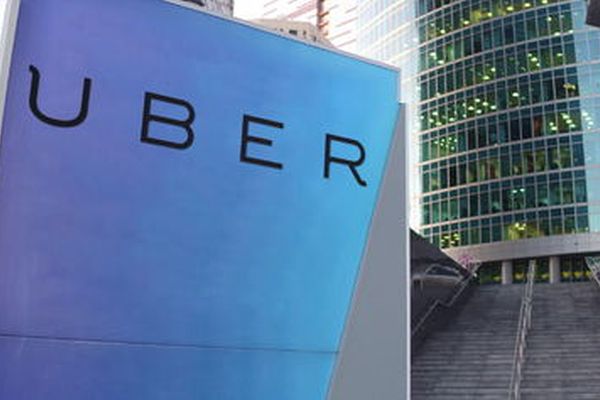 The CEO of Uber understands what his drivers go through -– and that it's not pretty.  
With five years under his belt running Uber, last September CEO Dara Khosrowshahi put himself in the shoes of his drivers. What he found was surprising," The Wall Street Journal reported. 
Khosrowshahi went by "Dave K" on the road as he took "dozens of trips as a ride-share driver in the following months ferrying people around the hills of San Francisco."  
During his somewhat hectic time behind the wheel, he faced a terrifying moment for his company during which, "a hacker had breached Uber's network."  
"It was the latest experiment in the CEO's yearslong journey to reinvent driving on Uber. Along the way, he struggled to sign up as a driver, saw firsthand something called tip baiting and was punished by the app for rejecting trips," the article says. "Surprisingly hard to take was the rudeness of some Uber riders."  
This was part of a campaign, Project Boomerang, which redid the Uber business model since its inception in 2009. 
"I think that the industry as a whole, to some extent, has taken drivers for granted," Mr. Khosrowshahi said in an interview in the article. He hadn't driven on Uber before because it wasn't his biggest priority—drivers had always been in abundant supply. The pandemic-fueled labor shortage forced a companywide introspection, he said, to "re-examine every single assumption that we've made."   
Why it matters: By better understanding pain points in the worker base, Khorowshahi can both keep the workers they have happier and more effectively recruit new ones. Making sure you understand your audience — in this case, drivers — is a critical part of PR. Is there an experiment like this you can perform to get better in tune with your target audience so you can better speak their language and understand their needs?   
Gen Z Is set to change up the travel industry  
Fifty-two percent of Gen Z adults are now frequent travelers, on par with travel-happy millennials, Morning Consult reported.  
Gen Z travelers are 35% white, 33% Hispanic, 25% Black, and 8% Asian and other, with 44% coming from the South and 22% coming from the Midwest, the report added.  
"More traveling isn't translating to more trust: Gen Zers have a lower level of trust in the industry than other generations," the report adds. "Brands must focus on inclusivity and accessibility to build a strong foundation with Gen Zers as they solidify their travel habits and preferences."  
Why it matters: How can the travel industry be even more marketable and gain trust to Gen Z consumers? The report adds that Gen Z has a lower trust in the travel industry (than other generations) and overall. How can brands be more trustworthy to this generation?  
Start with meeting the needs of Gen Z consumers.  
In general, brands should be more inquisitive and ask why this demographic might not trust the hype. Share why you're trustworthy through transparent communications techniques and don't just offer them more noise but something valuable that will keep them coming back to your brand.  
What a TikTok-less Hong Kong could reveal about America's future 
Hong Kong discontinued the use of TikTok in 2020 and America could be next as lawmakers continue to mull a ban, CNN reported.  
In Hong Kong, the stark reality of not having TikTok resulted in "mixed reactions" including "disappointment from some users and content creators, but also relief from others who say life is better without the app's infinite scroll."  
Former TikTok Creator Shivani Dukhande, who had about 45,000 followers when the app shut down in Hong Kong meant her lifestyle content was done for, she said.  
"More people were joining and it was becoming such a fun thing to do," she told CNN. "Then, it just kind of went away one morning. If it continued, then I probably could have made enough to have quit my 9 to 5," she said. "If I had the chance to grow, it could have been a potential career path."  
Nowadays, people in Hong Kong uses other platforms like Instagram's Reels. Dukhande is part of this social media network where she has over rebuilt to more than 13,000 followers. 
"This is one of the main arguments TikTok has made in recent weeks in the US. In March, as the company's CEO prepared to testify before Congress, TikTok produced a docuseries highlighting American small business owners who rely on the platform for their livelihoods," the article adds.   
The platform is used by almost 5 million businesses in the US, TikTok said in an article in March.   
Why it matters: Businesses who use the app have to think about the very real possibility it could disappear. It's happened before. Consider creating communication plans around what that departure could mean for your business, the social media platform you might refocus your efforts on and what your followers need to know. Don't freak out just yet but preparing for the ban now could save a lot of headaches later.  
'The Hunger Games' is back and TikTok is ready 
"The Hunger Games." a blockbuster book and movie series that was popular about a decade ago, is reemerging on the cultural scene, both bringing in new fans and energizing OGs ahead of the release of the new movie "The Ballad of Songbirds and Snakes" this November, Mashable reported.  
"In a feat of marketing genius, the four "The Hunger Games" movies returned to Netflix, but only for the month of March, ushering in a collective rewatch and re-examination of the dystopian YA franchise that defined the early 2010s," the article notes. "'The Hunger Games' spent three weeks of March on Netflix's Global Top 10 watch list."   
"Hunger Games" and "The Hunger Games" have garnered 2.6 billion views and 2.9 billion views, respectively with tags on social media on Facebook and Instagram, too.   
TikTok Hunger Games fan Loretta Loera, 21, is described as being "at the forefront of all of the "Hunger Games" content on the app."  
"I started posting ('The Hunger Games content') the first week of March because my siblings were watching 'The Hunger Games' for the first time, and I got to re-experience it through them," Loera said in the Mashable article.    
@luckyleftie

Be warned #tbosas videos WILL be spoiler-rich – but super hyped to tackle them all the same!
Why it matters: Society's trend cycle is getting shorter and shorter. Memes and trends appear and disappear in days, and even movies can be largely forgotten a decade after their release. By introducing a new generation of fans to "The Hunger Games" with a limited-time streaming release and activating influencers on BookTok and beyond, the PR teams are exciting old and new fans. 
What can you find in your archive that might be ripe for a revamp? Everyone loves a throwback. How can you emphasize that something is familiar and classic but also exciting and new? "The Hunger Games" is expertly threading that needle. We'll see how well it succeeded when box office receipts come out in November.    
Sherri Kolade is a writer at Ragan Communications. When she is not with her family, she enjoys watching Alfred Hitchcock-style films, reading and building an authentically curated life that includes more than occasionally finding something deliciously fried. Follow her on LinkedIn.
COMMENT