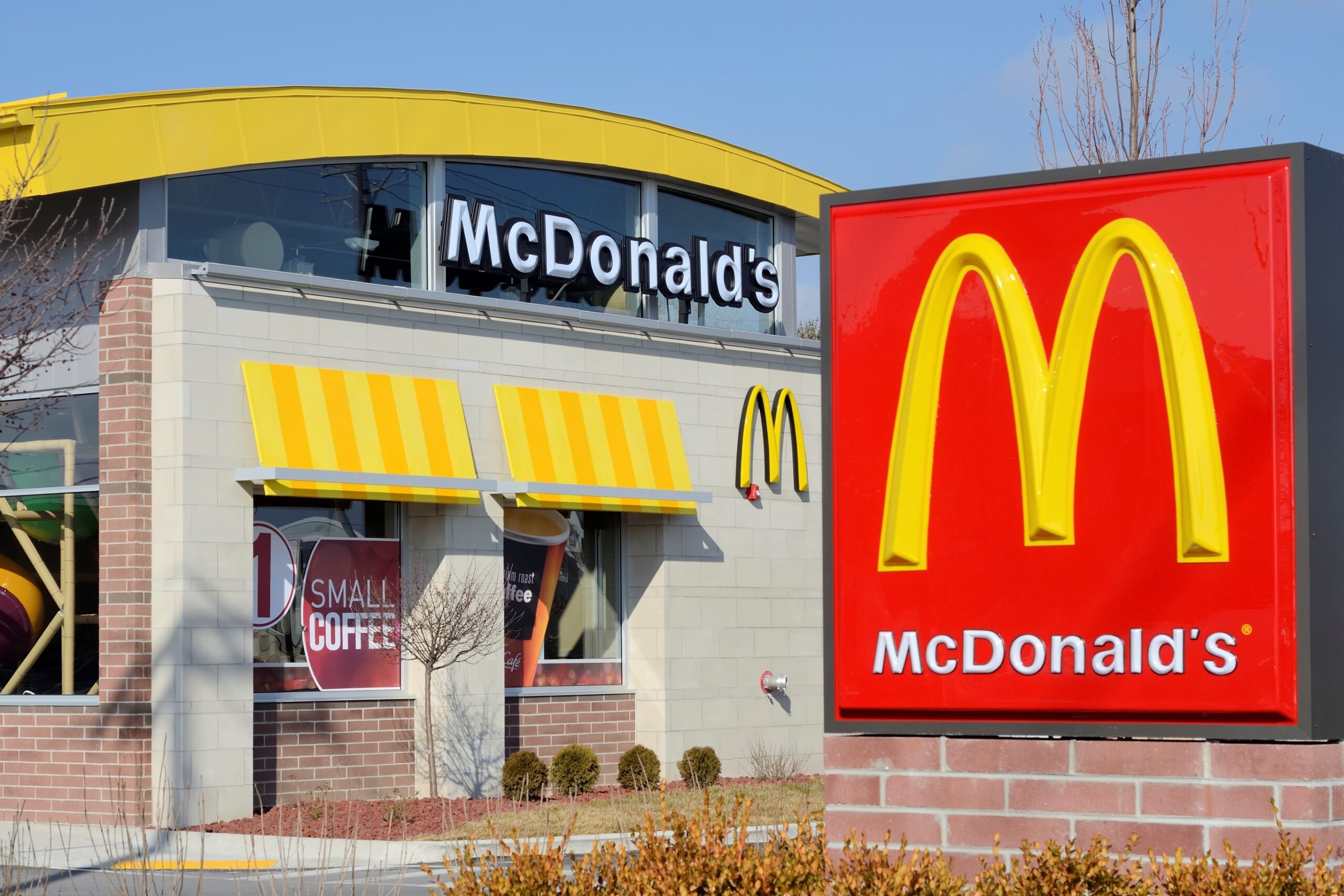 McDonald's is improving their burgers with softer buns, grilled onions and extra Big Mac sauce, which is a big win for us fast food enthusiasts, according to a Yahoo Finance article.  
The revamped recipes are already rolled out in cities across the western United States. The news also quickly caught wind on social media with fans and haters alike having their say with some happy with the move and others who couldn't care less.
How do you change perfection?

— paulgabrail (@paulgabrail) April 18, 2023
The updates will roll out nationwide early next year, Yahoo Finance reported. 
"We found that small changes, like tweaking our process to get hotter, meltier cheese and adjusting our grill settings for a better sear, added up to a big difference in making our burgers more flavorful than ever," Chad Schafer, senior director of Culinary Innovation for McDonald's USA, said in a press release.  
The infamous Hamburglar is also on the prowl and was recently back in action in time for the updated burger, according to a press release, which is a welcome sight for grownups who remember the character fondly.  
Why it matters: McDonald's is the rare company that gets press for even the slightest change to its product. The burgers are so iconic, simply announcing a different way of cooking onions can set the world on fire. Of course, there's a risk the burgers won't live up to the hype. But in the short term, you can expect that plenty of people will pop into a Mickey D's to see if the changes are real – though those of us east of the Mississippi might be waiting a while.  
Consumers are cutting back on entertainment expenses  
What's one of the first things to go when someone is trying to save money? Fun money. And many Americans are currently attempting to cut back on these miscellaneous entertainment expenses as the economy continues its unpredictable swings, Morning Consult reported.  
"Recession fears have yet to be realized, but consumers have still made efforts to trim entertainment expenses," according to the report. "Consumers have generally cut back more on one-off entertainment purchases like movie tickets and video games than on subscription expenses over the past year."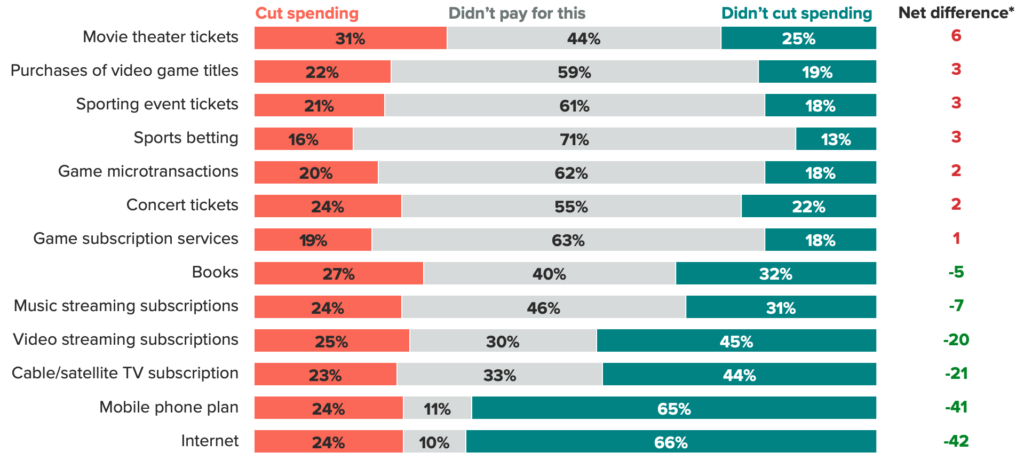 According to the report, roughly one in four Americans decreased their spending on the internet, phone plans and video streaming platform services (among other regular media-related costs).  
Also, about three in five Americans noted that they plan to scale back their expenses on internet and cellphone plans, per the report.  
In the last year, 31% of Americans cut their movie theater ticket spending according to the report. With concerts, 24% reduced their spending, the report notes.  
Why it matters: "Media companies will need to become even more diligent in their budgeting," Morning Consult report data noted as "consumers want to spend less on telecom expenses like entertainment subscriptions in the months ahead."   
With media companies having to buckle down to prepare for what's to come with consumer spending, it's also an opportunity for them to possibly face what happens if they see massive cuts from Americans dropping their services in favor of trimming the fat on unnecessary purchases. While they should think about recalibrating their messaging about the values of their offerings, consider communicating about cheaper streamlined services to the masses so penny pinchers might think of staying a while. 
Budweiser gets back to basics in patriotic ad  
"Let me tell you a story about a beer rooted in the heart of America."  
So begins a Budweiser advertisement that shows its iconic Clydesdale galloping throughout hallowed places in America like the Lincoln Memorial, St. Louis' Gateway Arch and other locations, CBS News reported.  
— Budweiser (@budweiserusa) April 14, 2023
The ad is reportedly in direct response to the company getting heat after featuring Dylan Mulvaney, a trans actor, in social media promotions. Budweiser got flack from conservatives in early April after posting on Instagram about a beer contest and revealing cans displaying Mulvaney's face to recognize a series, "365 days of girlhood" according to CBS.    
"This is a story bigger than beer, this is the story of the American spirit," the article says of the advertisement's narration.   
Why it matters: Budweiser is using images of America's beauty and majesty, plus its iconic Clydesdales, to drive home the message that they're the same good old beer you've always enjoyed. Even as the inclusion of Mulvaney in their media mix signaled to some that they're now welcome in the Budweiser family, this ad clearly intends to tie the brand to its classic roots and show that it's still the beer you've always loved. 
Whether or not this is enough to appease angry consumers, we'll have to see. But it's a strong attempt to trade on decades of iconography and tying Budweiser to the most American of images.  
Elon Musk takes juvenile swipe at the CBC 
Elon Musk is at it again with Twitter antics that are wreaking havoc on media outlets if they breathe the wrong way. This time, Musk has unleashed his wrath on the Canadian Broadcasting Corporation, Toronto Star reported.  
Similarly to NPR, the CBC protested a move from Twitter to label the news service as "government funded" and announced it would pause its activities on the platform, the Star reported.  
Musk updated the "government funded" label to first read " "70% government funded media," before later revising that number to 69% in a crude sexual joke, according to the Toronto Star and Musk's own tweets. 
Why it matters: According to the article, "When asked for comment, Twitter responded with a poop emoji — as it has done for all media inquiries since March."  
It's clear that Musk's whims are the only rules on Twitter now. From incorrect labeling to childish jokes, any brand can be the butt of his tantrums at any time.  
 It's time to start charting an exit strategy in case your brand finds itself in Musk's crosshairs.  
Sherri Kolade is a writer at Ragan Communications. When she is not with her family, she enjoys watching Alfred Hitchcock-style films, reading and building an authentically curated life that includes more than occasionally finding something deliciously fried. Follow her on LinkedIn. Have a great PR story idea? Email her at sherrik@ragan.com.
COMMENT