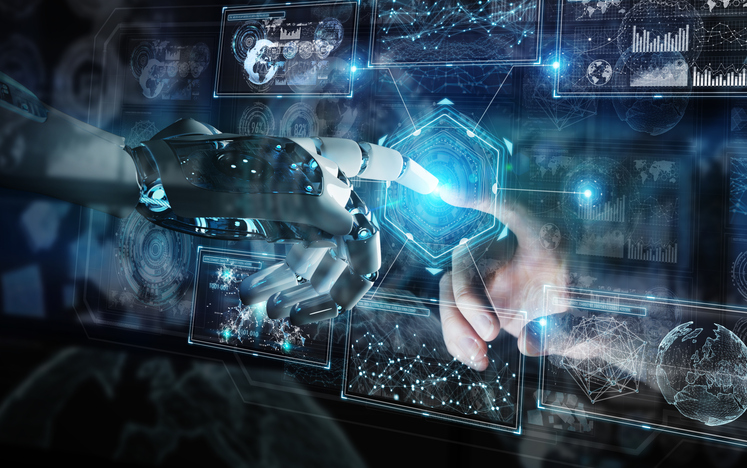 As people use generative AI more and more, understanding how to decipher whether the information they spit out is real or fake will be critical.   
 The New York Times reported that the technology industry describes AI errors (and there are many) as "hallucinations." Sometimes these are based on errors in what the AI learns from the internet. Other times, they flat-out make things up, for reasons that aren't clear.  
"If you don't know an answer to a question already, I would not give the question to one of these systems," Arizona State University Professor Subbarao Kambhampati, who researches and teaches AI, said in the article.  
The New York Times explains:  
The new AI. systems are "built to be persuasive, not truthful," an internal Microsoft document said. "This means that outputs can look very realistic but include statements that aren't true." 

That means determining what's real and what's false can be very tricky, simply because the bots seem so confident in their wrongness.  

Why it matters: Busy PR pros are already using chatbots to make their work lives easier. But you have to be clear of the technology's limitations. Sharing wrong information from an AI hallucination could have dire repercussions. Be thoughtful and careful in your AI use – and always fact-check.  
Drinking dips in some demographics  
Gen Z and millennials are cutting back on their drinking or plan to this year, Morning Consult reported.   
The two demographics participated in the survey to note their drinking habits and about three out of 10 of them, or 31%, planned to cut back in comparison to last year, according to the survey.   
"When asked more recently about their moderation efforts, nearly half of drinkers said they made an effort to drink alcohol less often (49%) and consume less when they do drink (47%)," according to the survey.   
These habits of drinkers don't correlate with a viral TikTok trend, "Damp Drinking," where a person cuts back on their alcohol intake, the survey adds. According to the survey, about one in three drinkers who are Gen Z and millennials, heard of the term. More than half of that group surveyed expressed the possibility of practicing it, the survey adds.    
"This ongoing moderation mindset shift will shape drinking habits for years to come: Brands should prioritize growing low-alcohol and no-alcohol alternatives," the survey adds. 
Why it matters: Younger demographics are scaling back on their drinking and some brands will have to shift their communications approach. Start considering now how you communicate about alcoholic beverages to younger generations and meet them where they are with drinking options that fit their needs today with mindful messaging that take into account moderation and mental health.   
Bumble creates buzz during Mental Health Awareness Month  
Bumble has created Interest Badges for self-care and mental health that daters can display on their profile, Mashable reported. The new feature is in honor of Mental Health Awareness Month.  
The Interest Badges signal to others what's going on with you, start conversations with others, or boost your mental health talk with pre-selected topics like, "I'm prioritizing my mental health by…"  
Mashable explains:  
Mental health is important to millennials and Gen Z daters, especially since the pandemic. Since 2021, dating experts have said that self-care and mental healthcare and awareness are more important to singles than ever. A survey of 1,000 adults Bumble commissioned, conducted in April 2023, came to the same conclusion: Millennials and Gen Z are more likely than any other generation surveyed to go on a second date with someone who mentions therapy or their mental health journey on the first date.  
The badges garnered pretty positive reactions on social media, too.  
Why it matters: Bumble used data to focus on how its target audience prioritizes mental health. They took that information and created an engaging campaign around it tied to an advocacy month. You can't go wrong with being aligned with what your stakeholders need.  
Brittney Griner keeps positive note during press conference  
WNBA player Brittney Griner talked to reporters at a news conference for the first time since she was released from a Russian jail last December, MSNBC reported.  
Griner, who was imprisoned for almost 300 days, spoke during the event about her experiences coming back from Russia and used the opportunity to promote her activism, sports equity in the WNBA, trans children and more.   
Griner's emotions ebbed and flowed as she answered a reporter's question about going overseas to work during the press conference, which MSNBC captured. 

The whole reason a lot of us go over is the pay gap. A lot of us go over there to make an income to support our families. To support ourselves. So I don't knock any player that wants to go overseas and make a little bit of extra money," Griner said during the news conference. "I hope a lot of these companies start to invest in our craft, because as you'll see this season if you haven't watched before: we have a really good craft in the WNBA. And it's a shame that we have to leave our family for holidays. I mean, you're missing everything being away."
Why it matters: Griner didn't make the focal point about her hardships. Rather she used it as a platform to talk about pressing matters beyond her time behind bars like trans kids, WNBA equity and more. While she took the opportunity to be transparent about her issues, she navigated the conversation bringing it back to these core issues. Griner is continuing to make use of her platform, as she stepped out last night at the glamorous Met Gala. When given the opportunity, even through difficult moments, talk about issues you stand for, too, especially when all eyes are already on you. Use that platform as a moment to further shape your brand's narrative while positively shifting perspectives.
Sherri Kolade is a writer at Ragan Communications. When she is not with her family, she enjoys watching Alfred Hitchcock-style films, reading and building an authentically curated life that includes more than occasionally finding something deliciously fried. Follow her on LinkedIn. Have a great PR story idea? Email her at sherrik@ragan.com. 
COMMENT