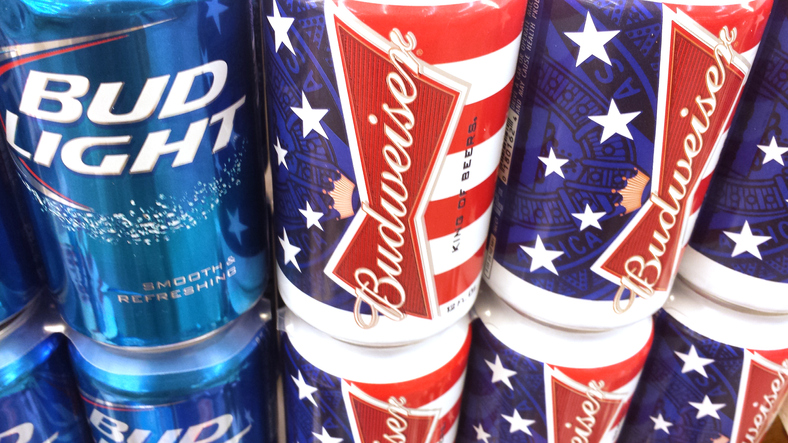 Anheuser-Busch InBev is moving to regain favor lost among stakeholders after an April Bud Light promotion featuring trans actor Dylan Mulvaney sparked controversy from its the beer's conservative base, The Wall Street Journal reported.  
The article explains:  

The April 1 post sparked a boycott that caused sales to plummet for both Anheuser-Busch and its independently owned distributors. The distributors' employees, many of whom drive trucks bearing the Bud Light logo, were confronted by angry people on streets, in stores and in bars. Sales also declined.   

Weeks later, Alissa Heinerscheid, vice president for marketing at Bud Light, was "placed on leave," according to the article, along with her boss, Daniel Blake who chose to take a leave.  
The article noted the brewer is courting favor by distributing a Bud Light case to Anheuser-Busch wholesaler employees, per the article.  
Why it matters: Bud Light addressed in the letter how the "can is not a formal campaign or advertisement," according to the article.  
It quickly abandoned its play for new audiences after facing blowback from its existing customers, even turning on the executives behind the partnership with Mulvaney. It seems to be doubling down on traditional marketing messages and audiences to preserve the market share it has and try to claw back some goodwill, especially with distributors. That may work, but will they ever be able to woo back the LGBTQ+ audiences they sought to court with this promotion? At least for now, it seems clear that Bud Light can't have both groups. 
Sometimes, you have to choose. We'll have to see if they chose correctly. 
Boycotting brands lose steam among consumers amidst inflation  
What do we want? To buy from brands! When do we want it? Now!  
That is practically the rallying cry from consumers who aren't too pressed about boycotting brands as they were in previous years due to inflation woes, Morning Consult reported. Bud Light aside, apparently with its own customer base up in arms. 
According to the survey, 21% of people boycotted brands because of political issues this year, which is a 10-percentage point decrease from two years ago, with inflation primarily causing the change.  "Buycott" figures similarly remain at 20%. Buycotting is intentionally purchasing from a company due to a "political stance it has taken," according to Morning Consult.  
The survey adds that "ethical shoppers" represent 32% of people boycotting brands (although they are only 9% of the overall population).  
The survey explains:  

2020 saw many brands speaking out in support of racial justice protests after George Floyd's murder. At the same time, consumers were paying attention to how brands were treating their employees amid pandemic lockdowns. In 2021, shoppers were generally supportive of brands speaking out on social and political issues. Now, many of those same brands are staying mum after tragedies and court decisions. So are consumers.  

"Messaging about environmental, social and governance practices is less relevant to shoppers when their budgets are squeezed, but consumers will still punish brands that cross ethical lines," notes the survey. 
Why it matters: Brands are closing their mouths more on hot-button topics and consumers, for the most part, are OK with it as they're more fixated on the rising prices these days. As brands are somewhat off the hook with needing to address issues or take stances, they can continue to keep their money-conscious stakeholders engaged by communicating about their lower price options. Not stirring the waters for brands can keep them in the favor of consumers, at least for now.  
McDonald's responds to allegations of child labor 
An investigation by the U.S. Department of Labor unveiled that several 10-year-olds were often regularly working into the early hours of the morning at a Louisville McDonald's, CNN reported.  
The investigation discovered three McDonald's franchisees, who own over 60 locations across the Southeast, had over 300 children working at them unlawfully, according to a Labor Department statement quoted in the article.  
McDonald's, USA spokeswoman Tiffanie Boyd told CNN the reports were "unacceptable, deeply troubling and run afoul of the high expectations we have for the entire McDonald's brand."  
"We are committed to ensuring our franchisees have the resources they need to foster safe workplaces for all employees and maintain compliance with all labor laws," Boyd said.  
The franchisees involved are looking at $212,754 in penalties because of the violations, according to the release in the article.  
Why it matters: McDonald's statement addresses this difficult matter while protecting its overall image. The spokesperson didn't shy away from condemning the actions of a franchisee while reinforcing the brand's continued commitment to helping provide needed resources to employees. They are attempting to distinguish their values over the controversy.   
Mattel releases new Barbie during AAPI Heritage Month 
Anna May Wong, a groundbreaking Asian American actress, has her very own Barbie, The Associated Press reported.  
Mattel made the announcement to coincide with Asian American and Pacific Islander Heritage Month. The doll is featured in Barbie's "Inspiring Women" series highlighting noteworthy women, the article adds. Other women in the series include Frida Kahlo and Amelia Earhart. 
Wong starred in a television series, "The Gallery of Madame Liu-Tsong" in 1951 among a plethora of other films, according to IMDb. 
"As the first Asian American actor to lead a U.S. television show, whose perseverance broke down barriers for her gender and AAPI community in film and TV, Anna May Wong is the perfect fit for our Barbie Inspiring Women Series," Mattel Executive Vice President Lisa McKnight noted in a statement given to CNN.  
Why it matters: Mattel's debut of the first Asian doll in the Barbie Inspiring Women Series, is a timely way to kick off this heritage month. Bringing the message of inclusivity home to Chinese Americans and others keeps the brand and the month in people's minds.  
Sherri Kolade is a writer at Ragan Communications. When she is not with her family, she enjoys watching Alfred Hitchcock-style films, reading and building an authentically curated life that includes more than occasionally finding something deliciously fried. Follow her on LinkedIn. Have a great PR story idea? Email her at sherrik@ragan.com. 
COMMENT
One Response to "Budweiser regroups after backlash, Barbie debuts Anna May Wong doll and more  "
Ronald N Levy

says:




Well-intentioned Bud didn't regroup they re-groped. By putting the two execs on leave, Bud took an action that may have LOST goodwill and sales from non-binary people but without regaining much or any business from customers who were offended by Bud's trans advocacy.

The Ten Commandments says to honor they father and thy mother. The commandments of PR wisdom say to honor and "help the heroes"—the ballplayers who make us happy by getting hits, the executives who win our admiration by making money, plus the medical and military people who earn out gratitude by protecting us.

Two "help the heroes" realities are important.

.1. Be damn careful not to learn the hard way as Bud and Adidas have learned that if we help the non-heroic we may get non-results or worse.

.2. Instead of honoring minority achievers as many others do—a kissing up that may actually offend many minorities who'd prefer money or opportunity or better laws—honor public achievers too often ignored like doctors and hospitals plus retailers who help us by working sometimes 60 to 80 hours or more per week.

Would thousands of retailers gladly give extra good display space if Bud does "let's help our heroes" ads and point-of-purchase signs telling consumers why to appreciate our retailers and how to help them? Retailers! The hard workers who display what Bud needs to sell. Bud communicators, honor thy retailers and see if your management has the good sense to honor you.

The way to overcome a problem like Bud's is by doing MORE for people,
not by punishing execs who helped an important segment of our demand.