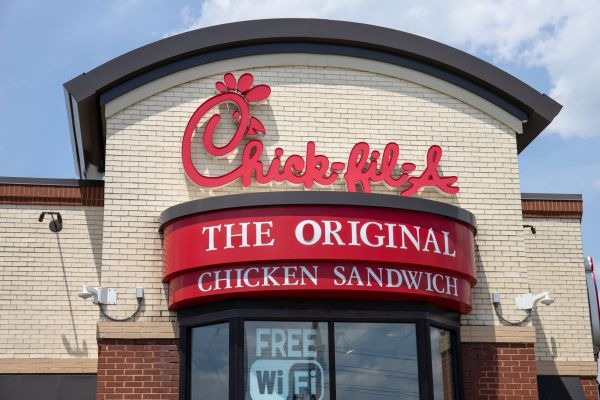 Chick-fil-A is feeling the heat after "anti-woke" individuals expressed their disapproval of the national chicken chain restaurant bringing on a DE&I vice president – though they're months behind – among other things they're mad about, Vox reported.
Though right-wing groups have heavily supported Chick-fil-A – known for donating to anti-LGBTQ+ groups (though that is changing) – their stance is just too much for some who feel betrayed by the restaurant chain's seemingly switching things up. Chick-fil-A was viewed as one of just a handful of large corporations that espoused conservative values, and its perceived loss is rocking the right. 
The controversy:
Ian Miles Cheong, a prominent member of the alt-right, tweeted this in response to Chick-fil-A's DE&I initiatives: "DEI is literally wokeness. You can dress it up in nice language that appeals to your Christianity or sense empathy but in practice it always boils down to the same SocJus nonsense that is destroying every industry and institution."
"This is bad. Very bad. I don't want to have to boycott. Are we going to have to boycott?" Joey Mannarino posted on Twitter about McReynolds.
We have a problem.

Chick-Fil-A just hired a VP of Diversity, Equity and Inclusion.

This is bad. Very bad.

I don't want to have to boycott.

Are we going to have to boycott?

— Joey Mannarino (@JoeyMannarinoUS) May 30, 2023
Vox reported that conservatives are upset over Chick-fil-A's statement about its diversity, equity and inclusion commitments including developing a "culture of belonging."
This all comes on the heels of conservatives coming for Bud Light and Target, for their support of the LGBTQ+ community. While the Chick-fil-A controversy speaks more generally to DE&I, conservatives clearly believe they have the power to effect change through boycotts at the moment. 
Why it matters: Chick-fil-A is letting its brand's stance strategically shine through, as DE&I head Erick McReynolds said on the company website: 
Chick-fil-A restaurants have long been recognized as a place where people know they will be treated well. Modeling care for others starts in the restaurant, and we are committed to ensuring mutual respect, understanding and dignity everywhere we do business. These tenets are good business practices and crucial to fulfilling our Corporate Purpose. 
Chick-fil-A's corporate purpose is to "glorify God" as a "faithful steward" to what they oversee. One could argue that they are not shirking away from those responsibilities that made the company what it is – rather they are adding to it. 
Many political conservatives, however, view it differently. Florida's Voice reported that Gov. Ron DeSantis views DE&I initiatives as the opposite of what they purport to be.
 "I think (DEI has) been used in the administrative apparatus of universities to try to impose not diversity of thought, but to try to impose uniformity of thought. And instead of inclusion, the people that dissent from this orthodoxy are actually excluded and marginalized," he said in the article.
Yet it appears Chick-fil-A is not defending its stance on social media, in the press or on their website. Chick-fil-A could consider, though, releasing a statement, which echoes their values and beliefs and not leaving customers in the dark. 
But they're keeping mum, for now, and this is a wait-and-see situation where the next step will be one to watch.  
Every brand should be prepared for a conservative backlash at some point. A number of initiatives that were viewed as standard just a year or two ago, including Pride campaigns and DE&I initiatives, can now become flashpoints from emboldened activists. 
Be ready with your response, internally and externally. 
Top Headlines:
·    Reddit's newly released third-party API pricing structure is being compared to Twitter's. Reddit's announcement on the $20 million price change left rampant speculation about future Reddit third-party access. Reddit needs to be clearer in their comms to the masses. 
·    The National Eating Disorders Association stopped its chatbot program after weight loss solutions were given to people who use it for help. The device is "harmful" to individuals with eating disorders.
·    Meta wants employees to return to work in September after letting them work remotely during COVID-19. A Meta spokesperson said that the company's policy is set to "foster the collaboration, relationships, and culture" for all employees to work their best.
Sherri Kolade is a writer at Ragan Communications. When she is not with her family, she enjoys watching Alfred Hitchcock-style films, reading and building an authentically curated life that includes more than occasionally finding something deliciously fried. Follow her on LinkedIn. Have a great PR story idea? Email her at sherrik@ragan.com. 
COMMENT
One Response to "The Daily Scoop: 'Anti-woke' camps lambast Chick-fil-A's diversity initiatives  "
Ronald N Levy

says:




Equal rights may be needed for corporate PR execs afflicted by stupidity.

We may see calls to recognize not just Artificial Intelligence but Genuine Stupidity (GS) if Chick-fil-A qualifies itself for a Genuine Stupidity Award by releasing a statement on corporate values and beliefs about LGBTQ+ issues.

Is there anything about being in the chicken business that qualifies a company to advise people about human sexuality? Would giving such advice, like advising the public about either side in abortion or national politics, benefit the public or the company anywhere near as much as the severe reproach felt by people who see things the other way?

Why lose market share if millions of people disagree with corporate advice?

Just as great PR firms and departments should earn money from PR not the chicken business, judge whether chicken companies are more credible advising about chicken, not PR.