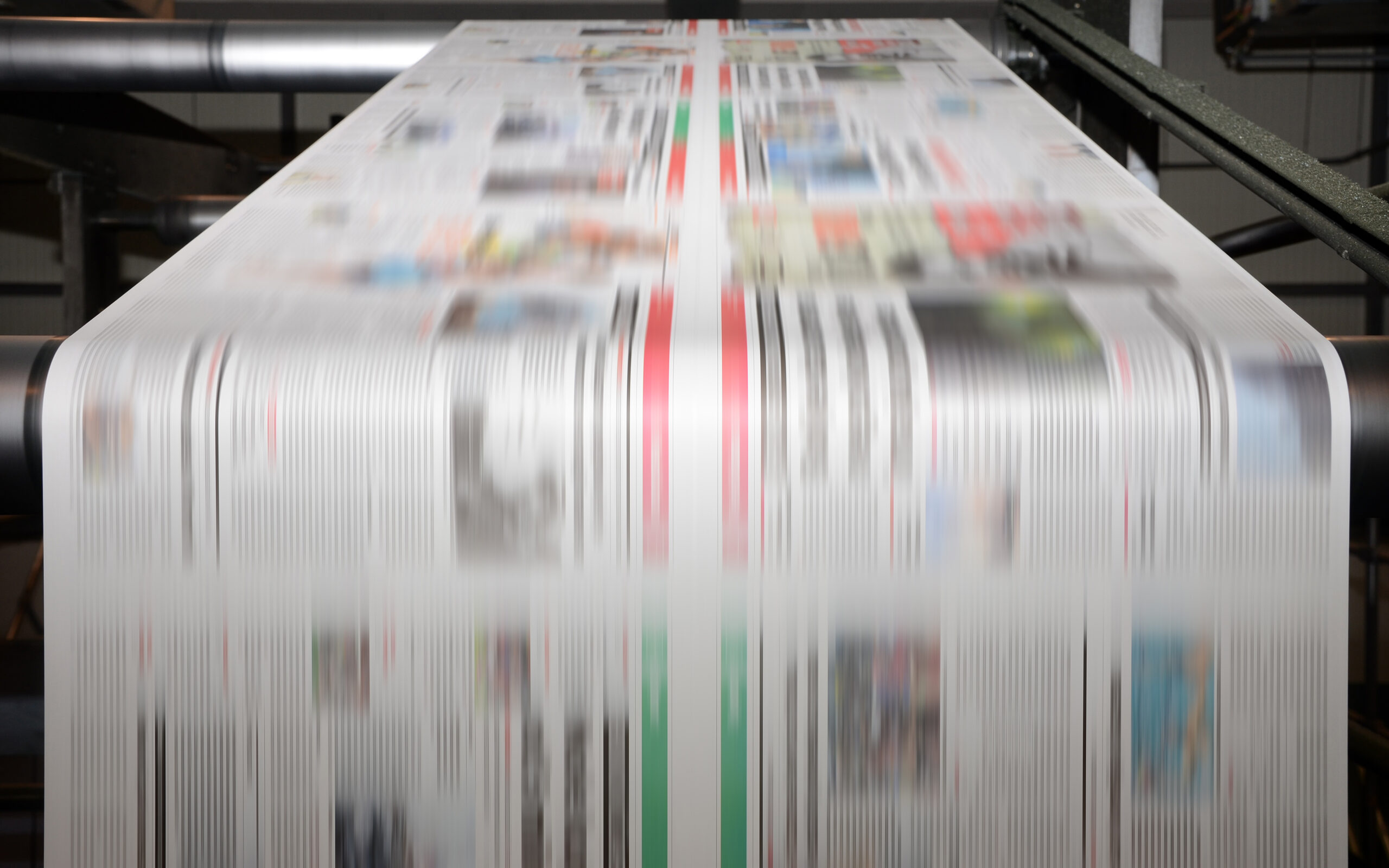 On Monday, hundreds of Gannett journalists walked off the job to demand an end to cost-cutting measures and to focus shareholders on the need for a change in leadership at the biggest newspaper chain in the U.S. Two dozen newsrooms across seven states participated including The Arizona Republic, The Austin American Statesman, The Florida Times-Union, The Asbury Park Press and others. The walkout was expected, and some newsrooms will strike for a second day.
The journalists want shareholders to take a vote of no-confidence against Mike Reed, Gannett's chief executive. The NewsGuild-CWA, the union that represents more than 1,000 employees and dozens of bargaining units, has argued Reed has hollowed out newsrooms as a result of "misplaced priorities."

"Reed doesn't care one bit about a long-term strategy to invest in the company by investing in journalists," NewsGuild President Jon Schleuss said in a biting statement. "They need support and resources to make sure our communities have the local news needed to keep our democracy thriving. Instead, Reed's singular focus has been on stuffing his own pockets. Reed has overstayed his welcome at Gannett and needs to go."
Gannett merged with GateHouse in 2019 to produce annual cost savings to survive the issues facing the news industry and has since closed dozens of publications. With print revenues declining over the years, and a weakened advertising market, Gannett had sought relief through digital subscriptions, but that hasn't been enough. While the company still owns more than 200 daily newspapers in 43 states, including USA Today, Gannett may cut more to focus primarily on its 100 largest newspapers.
[FREE GUIDE: Pitching the Media]
In December, Gannett cut hundreds of jobs, targeting 6% of roles in its news division. By March, the company appointed Kristin Roberts as Chief Content Officer to lead Gannett's digital transformation and content strategy.
"Together, we will experiment with purpose, extend the impact of our journalism, and better serve the readers, viewers and listeners who depend on us for the highest-quality news and information," Gannett Chief Content Officer Kristin Roberts said in a statement. "We will do it in ways that support the sustainability of local news and create the path to growth."
Why it matters: The strategy to shutter local newspapers means some communities aren't aware of what is going on around them and instead receive stories from other Gannett papers that can be more than an hour's drive away. For example, the Los Angeles Times reported that The Salinas Californian no longer has any local reporters in a city of 163,000 and is doing just that. According to NPR, The State Journal-Review, which serves Springfield, Ill., is led by the editor of a paper in Lakeland, Fla.
"You have communities that go uncovered, and when things go uncovered, it allows people to abuse their positions," said Kaitlyn Kanzler, a reporter for NorthJersey.com and The Record in Northern New Jersey, in a Chicago Tribune report.
The walkout was timed to coincide with Gannett's annual shareholder meeting where the company's board was duly elected despite the union urging a vote of no confidence in Reed's leadership. By 12:24 p.m. ET Monday, stock shares had already fallen 13.6%, which could make matters worse for any company trying to turn its finances around.
Gannett is also in the middle of contract negotiations with some of the striking newsrooms, where journalists are asking for a base salary of $60,000, up from the 2022 median pay of $51,035 in 2022. Meanwhile, Reed's total compensation is valued at nearly $3.4 Million.
Top Headlines:
Jon Minnick is the Special Projects Manager producing conferences, award shows and more. Follow him on LinkedIn. 
COMMENT
One Response to "The Daily Scoop: Gannett journalists stage walkout, demanding leadership change"
Ronald N Levy

says:




Reading Gannett's online "Risk Factor Summary" could scare the hell out of Gannett investors, employees, communities and suppliers but look at what Gannett can do to make things better.

.1. GIVE THE PUBLIC WHAT IT WANTS. Most Gannett content is about government and foreign news but look what people talk and care about: health, prices, safety, jobs, children, weight reduction, education, family relationships, personal happiness and other such close-to-home concerns.

Does our PR experience suggest it could it make sense and be profitable to publish more of what the public cares about more and less other stuff?

.2. SAVE ON COST OF GOODS SOLD. Just as stores focus intently on holding down the cost of merchandise they sell, and industrial companies on the cost of raw materials they buy, should Gannett save millions every month by using more "how to" and "when to" stories available FREE from national health associations, government offices and public relations teams?

Free cost of goods sold would be a dream for retailers and manufacturers but Gannett can have this by taking what's available now.

.3. SAVE ON MANAGEMENT COSTS. Instead of Gannett being owned mainly by investors and stock market people, why not have ownership by the great marketing teams like WPP, Omnicom, Interpublic and others? They understand the business, and they already have brilliant teams of executives in accounting, law, human resources and the other major departments of a big business?

Now Gannett spends money on getting advertising but ownership by marketing conglomerates would save much of this.

How well would it work? Judge by comparing the profitability of Gannett with that of our great marketing teams.