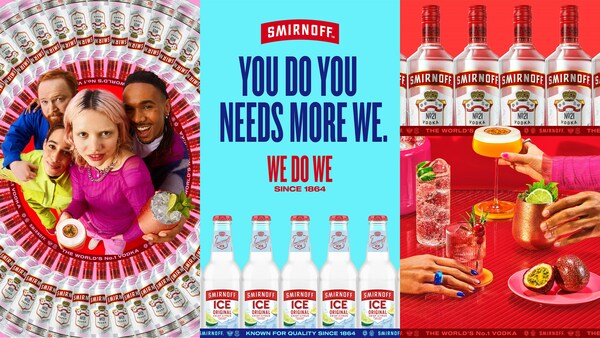 Smirnoff Global debuted its "We Do We" global campaign, which the liquor company says celebrates the synergy that is formed when various "people, ingredients and flavors come together," PR Newswire posted.
Smirnoff's colorful campaign promotes the "power of the collective" in a vibrant YouTube video along with a behind-the-scenes look, too.
The campaign comes on the heels of LGBTQ+-centered backlash as brands like Target and Bud Light are still trying to recoup from fallouts in one way or another.
"We do we is really a celebration of the power of the collective," Stephanie Jacoby, Smirnoff global SVP, said in its YouTube campaign video adding that the campaign is about cutting through the noise and being inclusive amidst divisiveness.
"The idea at the heart of it is all about when we really celebrate each unique me, it makes the we more magical. There is a genuine belief that together, we can achieve so much more."
Why it matters: Smirnoff's activation underlines its emphasis on inclusivity and togetherness in a time where brands touting being woke and inclusive comes at a cost.
Developing a campaign that its audience will be more than receptive to during Pride Month (and beyond) gives Smirnoff a chance to engage with consumers in a captivating way. Using the timeliness of the moment to build on unifying themes that promote its message and products at Pride events demonstrate how Smirnoff is truly tapping into communities where its target audience will be.
PR pros, look for opportunities to expand conversation around what your organization does, authentically connect your message with core and broader audiences, and celebrate your audiences in lasting ways. When brands meet people where they are, everyone can win. Let's cheers to that.
Music publishers come after Twitter in $250M copyright infringement lawsuit
Music publishers recently slapped Twitter with an over $250 million lawsuit over copyright infringement issues, CNN reported.
The National Music Publishers' Association lawsuit alleges that Twitter let users post copyrighted songs on the platform over the years, per the article.
 "Twitter fuels its business with countless infringing copies of musical compositions, violating Publishers' and others' exclusive rights under copyright law," the filing reads.
The lawsuit also notes that Twitter has "only gotten worse" after Elon Musk purchased the company last fall and cut staff, according to CNN and lists over 1,700 songs at the center of the copyright issue including "Uptown Funk," "Hey Ya!" and "All I Want For Christmas Is You."
Why it matters: Twitter's reputation takes yet another hit with this lawsuit.
While Musk seemed a bit blasé on copyright infringement in May 2022 with tweets about "overzealous DMCA" being a "plague on humanity" and his negative view on copyright laws – those words now take on a newly-loaded meaning. What does this all mean for PR pros?
Overzealous DMCA is a plague on humanity

— Elon Musk (@elonmusk) May 12, 2022
It means that you should take another pause when using Twitter and working with influencers. Influencers might be using music in the background while promoting your products or brand message. Clearly spelling out the rules and rights your creative partners have for using licensed music can keep your brand from getting mixed up in this controversy if a ruling potentially finds Twitter at fault.
Other social media platforms like TikTok, Facebook, Instagram, YouTube, Snapchat and more pay licensing fees to obtain copyrighted music, consider using them more.
You may have seen posts where a reel is muted because someone didn't read the fine print when posting with music—don't let that happen to you. Think about working with influencers on platforms already using music that has already been approved and licensed for use on the platform.
Editor's Top Picks:
Travel, restaurant and leisure-lifestyle brands shouldlook into harnessing the power of Baby Boomers who don't mind spending a few extra bucks on vacations and cruises in comparison to their younger counterparts. There's a growing spending gap between retirees who have deep pockets and younger, cash-strapped adults, according to Bank of America data.
 Disney's Chief Financial Officer Christine McCarthywill leave her post, Disney announced recently. McCarthy's departure marks a time when Disney is facing a "broad restructuring" with CEO Bob Iger at the helm. Disney is still working on re-gaining ground in the streaming arena, too.
Papa John's Doritos Cool Ranch Papadia is gaining momentum onlinewith its latest creation the brand calls "the best idea ever." But who exactly inventedit? DJ Khaled? Kris Jenner? Josh Hart? Or someone else?   We may never know, and that's the whole point. Papa John's scores big points in its new product marketing strategy that has twists, turns and celebrity appearances. Jaclyn Ruelle, vice president and head of brand at Papa John's, described the unique campaign as a "bold reimagination."
Sherri Kolade is a writer at Ragan Communications. When she is not with her family, she enjoys watching Alfred Hitchcock-style films, reading and building an authentically curated life that includes more than occasionally finding something deliciously fried. Follow her on LinkedIn. Have a great PR story idea? Email her at sherrik@ragan.com. 
COMMENT