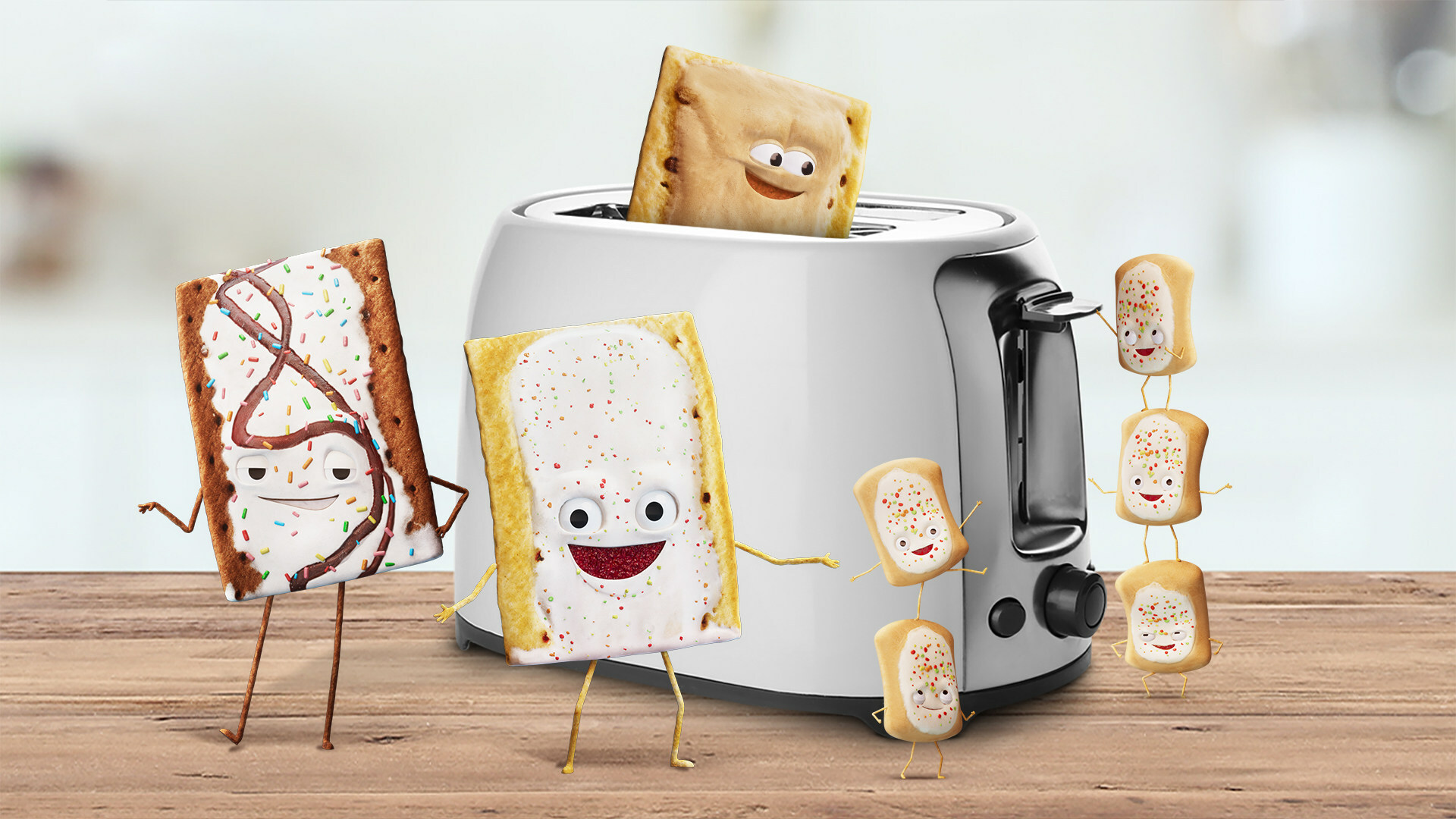 What's old is new again—sort of. The Kellogg Company is putting a fresh spin on its Pop-Tarts characters, which were featured in the brand's advertisements in the early 2000s, as reimagined "Agents of Crazy Good" in a 360 campaign, according to a Cision PR Newswire press release. 
The brand's new creative direction fits current times as it expands into snacking territory, with characters such as Frosted Strawberry, Brown Sugar Cinnamon and Hot Fudge Sundae now joined by a squad of Bites.  
The campaign changes the throwback narrative as the previous iterations of the characters typically avoided being eaten. The new versions of the characters happily—perhaps alarmingly—embrace it and "challenge expectations for where the brand can show up next—all while rallying for a chance to be your next snack." 
The campaign's July 20th activations debuted on digital and social channels and during San Diego's Adult Swim Fest. The characters will also be featured in ad spots, brand events and social content to promote opportune snacking moments.
Why it matters: What's not to love about anthropomorphic pastry treats? 
The Pop-Tarts' character revamp shows that the company is trying to capture past and present audiences with the interactive, loveable characters through their multiformat launch.  
Kellogg is keeping a pulse on what consumers want and crave with their Pop-Tarts snacking experiences, which have blossomed beyond breakfast time to anytime.  
"We recognize there is a growing excitement for our flavor offerings across breakfast and snacking occasions," Pop-Tarts' Senior Marketing Director Heidi Ray said in the release. "This new creative direction reinforces Pop-Tarts as an anytime food while simultaneously delighting fans with characters that remind them of their childhood love of Pop-Tarts." 
This snacking-forward move is motivated by a 17% increase in adults snacking since 2019, according to data from Circana/SupplyTrack. 
The campaign is making good on what's old with a new twist by being more enticing and delicious to fit the current media landscape's appetite. Pop-Tarts' characters are even on Instagram as they encourage fans to follow them on their traveling adventures with the latest one at the Adult Swim Festival. 
Pop-Tarts has been around for nearly 60 years but the brand is still finding new ways to slay hunger and stay relevant and connected to newer audiences.   
Brands, consider former ideas that you could tweak and reimagine for today. You might not have tasty walking, talking mascots, but you could tap into the past and find a way to fill a certain need or desire for your stakeholders now.  
Editor Top Picks: 
While fans are excited about

the "Oppenheimer"

movie, some southern New Mexico residents living near where the first atomic bomb experiment was tested have a different sentiment. These residents battled rare cancers over generations, and their story is dismissed as scientists such as

J. Robert Oppenheimer

are commemorated. Tina Cordova, Tularosa Basin Downwinders Consortium co-founder, which helps impacted families, told Axios that movie reps did not reach out to the survivors. "

Just include

a panel, a message at the end of the film that acknowledges the sacrifice and suffering of the people of New Mexico

," Cordova said. When sharing important stories, ensure that all sides are told and represented.

 

Google is testing out an AI tool

that could help journalists create news stories. The company is getting a pulse on that need from news organizations like The New York Times and The Washington Post. Genesis, a tentative title for the product, could receive relevant information and create news content around it.

Some unnamed news execs who saw the pitch called it "unsettling" while others said the product too easily sidelines human-created work. Google spokeswoman Jenn Crider stated, "In partnership with news publishers, especially smaller publishers, we're in the earliest stages of exploring ideas to potentially provide A.I.-enabled tools to help their journalists with their work."

 
New canned cocktail

Gay Water is making a splashy

debut after launching on Thursday. The

colorful cocktail

supports the LGBTQ+ community and is the antithesis to Bud Light's failed response to the Dylan Mulvaney promo

fallout

this past spring. "We're

creating a brand that creates representation," Spencer Hoddeson, Gay Water originator, told CNN.

 
Sherri Kolade is a writer at Ragan Communications. When she is not with her family, she enjoys watching Alfred Hitchcock-style films, reading and building an authentically curated life that includes more than occasionally finding something deliciously fried. Follow her on LinkedIn. Have a great PR story idea? Email her at sherrik@ragan.com. 
COMMENT