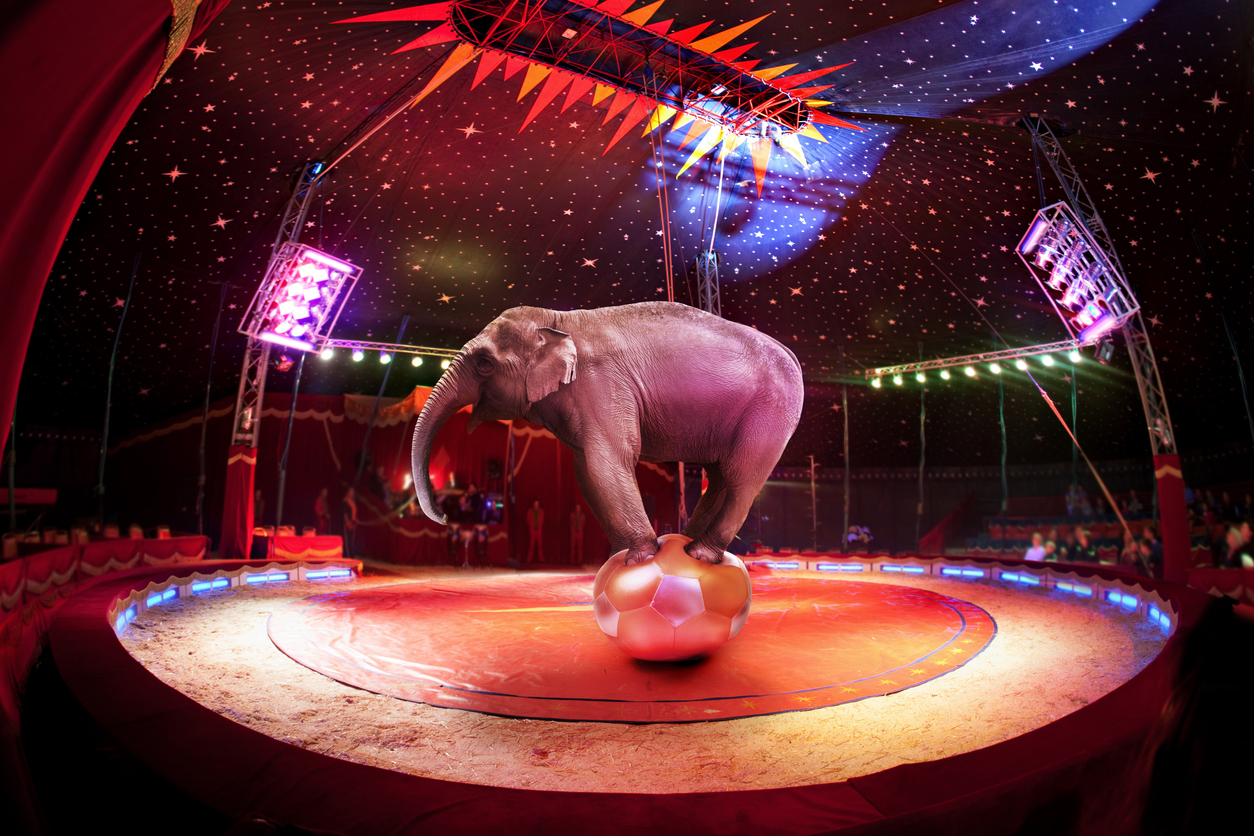 Cirque du Soleil wants to be cool to Gen Z, the New York Times reported.
The circus company is pretty cool with families, especially those with little kids, but they're missing the mark with Gen Z. The pandemic revealed to Cirque that it can't solely sustain itself with live shows, no matter how electrifying they are.
"After filing for bankruptcy protection in 2020, Cirque decided it had to be more than just a circus," the Times reported. "It wanted to be a brand, something that could sell perfumes, sunglasses, tote bags and video games."
Cirque hired consultants to home in on connecting with a larger audience.
Cultique, which calls itself a "cultural analysts firm," is helping Cirque attempt to "hack popularity" with a brand makeover, business rep redo and make a deeper, more relevant pop cultural connection, the Times reported.
Why it matters: Among Cirque's tactics include the release of Cirque du Soleil Tycoon, where Roblox players can build their own circus-themed land.
Making that leap into video games and the metaverse might be just the boost Cirque needs to bridge the gap between generations and find new fans.
They aren't stopping there either. From a signature fragrance "for the clown lover" to a line of home products, Cirque is pulling out all the stops to reach the Gen Z masses where they are. They also developed corporate partnerships with businesses like Motorola, which debuted its latest flip phone during a June event with Cirque, according to the Times. Connecting with bigger, hot brands could make them more appealing in the long run.
Cultique's goal is to help Cirque rewrite their story and be ahead of trends before they even happen.
Sometimes you have to take measured risks. If you are looking to connect more meaningfully with a new audience, try new ways to creatively reach them. Get to their level and find out what they're interested in and even what bores them to tears — then stay away from the latter. Meet them where they are and build your brand up in their eyes while amplifying your message. If they don't notice you, find a different pathway in. You don't have to abandon the things that make your brand uniquely you. But when crossing into unchartered territories to be relevant, learn the priorities of your audience. Find your voice with them and help that audience see your brand in a new, valuable way.
Editor's Top Picks:
TikTok wants to become the next e-commerce giant in the United States with the August launch of the TikTok Shop Shopping Center. TikTok will sell consumers made-in-China products and compete with other shopping platforms like Temu and Shein. Akin to the "Sold by Amazon" program, the social media platform will ship various household goods, clothes and products. The company initially held off on a broader e-commerce launch because some American businesses were hesitant to agree given the app's uncertain future as it's labeled a "national security risk." But for now, they've found enough support to move forward, presenting an intriguing option for some businesses.
What's in a name? A whole lot especially if it is represented by the humble letter "X." Since Twitter's Elon Musk decided to rename Twitter to X, potential legal implications could crop up as other companies, including Microsoft and Meta, also have intellectual property rights to X. "There's a 100% chance that Twitter is going to get sued over this by somebody," Josh Gerben, a trademark attorney, told CNN. Twitter/X is once again showing us the value in doing your research before undertaking a major rebrand — including looping in legal early and often.
Disney CEO Bob Iger's July 13 CNBC interview continues to make waves among striking writers and actors. Iger, who is set to rake in roughly $27 million in 2023, shared his "disappointment" over what he called "not realistic" compensation demands from Hollywood creatives. There's been backlash over the situation since, including comments from SAG-AFTRA's Fran Drescher who told Sen. Bernie Sanders that Iger "stuck his foot in it so bad," according to The Hollywood Reporter. Iger made his statements at an event known as a "billionaires' camp" and the day prior Disney announced the extension of his contract. There's a time and place to say something. That wasn't the time or the place. Help your brand's leaders and C-suite execs be more measured and aware of what they say, and where and how they say it during interviews. Essentially, read the room.
Sherri Kolade is a writer at Ragan Communications. When she is not with her family, she enjoys watching Alfred Hitchcock-style films, reading and building an authentically curated life that includes more than occasionally finding something deliciously fried. Follow her on LinkedIn. Have a great PR story idea? Email her at sherrik@ragan.com. 
COMMENT