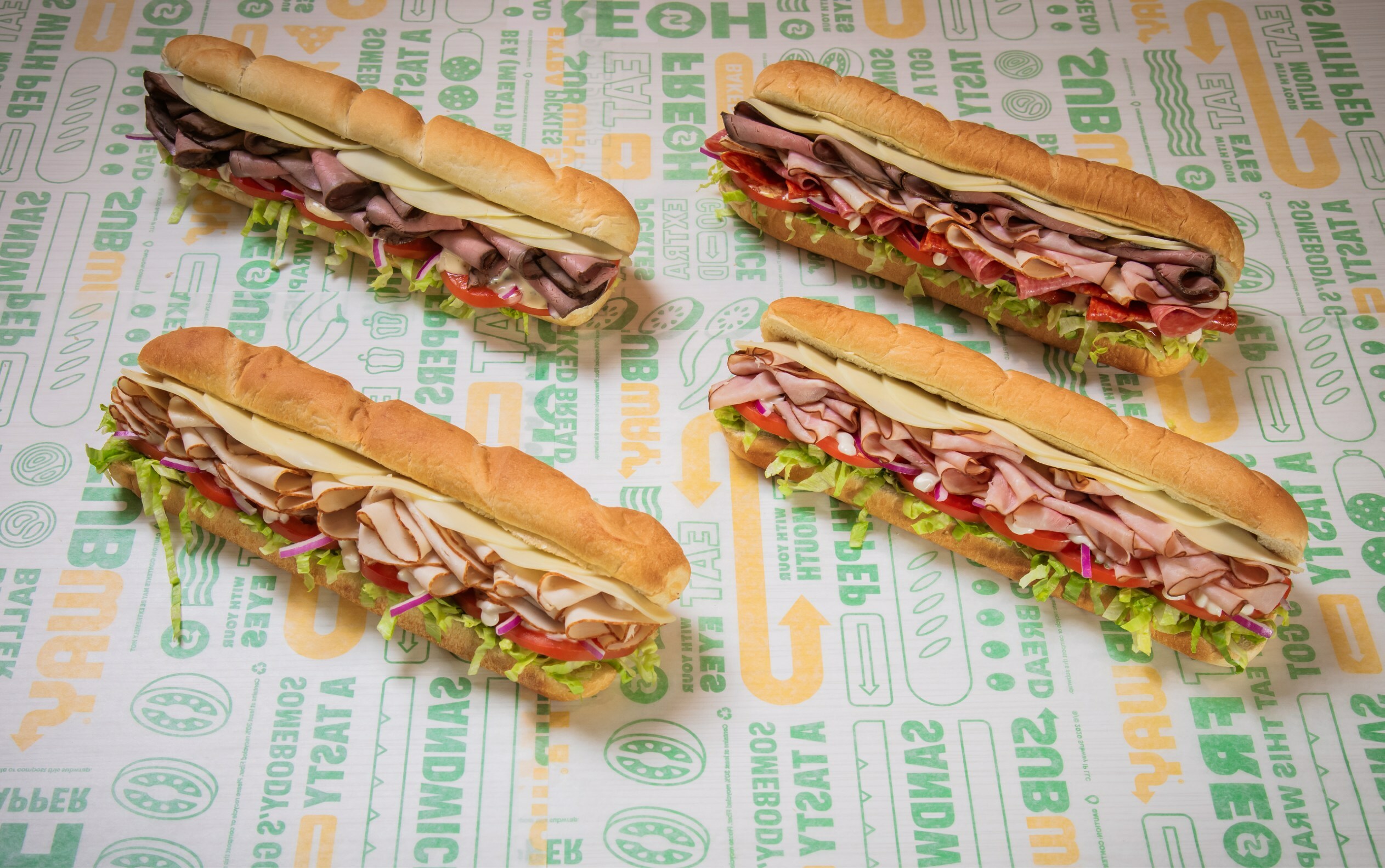 What would you do for free Subway sandwiches for life? Would you go as far as legally changing your name to "Subway"?
That gargantuan task will fall to one soul who is brave enough to enter into a Subway Name Change Challenge between August 1-4 at subwaynamechange.com, according to a Cision PR Newswire press release. One "winner" will be drawn and they must legally change their name to receive free Deli Hero subs forever, per the press release.
Subway underwent a massive branding makeover recently, including slicing meat fresh at its restaurants and challenging customers to rethink how they engage with the chain with better ingredients and sleeker restaurants. Media-grabbing campaigns like this are not new to Subway. Last year, Subway rolled out a campaign where fans could receive free subs for life after getting a "Subway" tattoo.
Why it matters: Subway continues to work hard to win fans over and engage them with its brand revamp. Subway's latest campaign is a crazy but potentially successful strategy. This marketing tactic keeps Subway in the minds and mouths of consumers. Even if many people don't plan to enter the Name Change Challenge, the earned media has been prolific, with ink in CNN, NBC News, USA Today and Food & Wine, among many others. Social lift from viral TikToks (not all positive, but all sure talking a lot about Subway) have also helped. Of course, a person who changes their name to Subway is practically a walking, talking advertisement for the company and brings free promotion to the brand.
Subway is thinking outside of the box to reach fans and connect with them on more creative, albeit outrageous, levels. This name change might take the cake, err, sub.
PR pros, you might not be asking your stakeholders to change their name anytime soon, but consider a unique enough campaign. Or a promotion that really wows or an idea that is wild enough to be talked about for years. Figure out what rings true to your audience — and what will capture headlines in the process.
Editor's Top Picks:
The X (formerly known as Twitter) account of Ye (formerly known as Kanye West) was reinstated  Saturday. Twitter gave Ye the boot last December after he shared a Nazi swastika image inside of the Star of David and made inappropriate comments toward Jewish people. Ye reportedly agreed to not post antisemitic content or anything else deemed hateful, The Wall Street Journal reported.  Ye won't earn money off of his account and advertisements won't be placed near his posts. The re-instatement of Ye might be another nail in the coffin for the troubled  X.
For the first time publicly, President Joe Biden gave a statement regarding his 4-year-old granddaughter, Navy Joan Roberts, Hunter Biden's daughter, shortly after a paternity suit was settled and the younger Biden agreed to pay child support.  President Biden had been under fire for not acknowledging the child as one of his grandchildren. "This is not a political issue, it's a family matter. Jill and I only want what is best for all of our grandchildren, including Navy," President Biden told People magazine. It's the latest in a difficult string of personal events for Hunter that his father has had to address both as a dad and a president — a difficult line to walk.
McDonald's won over social media with the birthday celebration of Grimace and hopes to continue its creative streak with a new small restaurant idea, CosMc's. During a Thursday analyst call regarding McDonald's second-quarter earnings, CEO Chris Kempczinski talked about the restaurant concept, ABC News reported. Kempczinski described it as "a small format concept with all the DNA of McDonald's but its own unique personality." More information will be shared later this year. McDonald's continues to find new ways to market the brand so things don't turn stale.
Sherri Kolade is a writer at Ragan Communications. When she is not with her family, she enjoys watching Alfred Hitchcock-style films, reading and building an authentically curated life that includes more than occasionally finding something deliciously fried. Follow her on LinkedIn. Have a great PR story idea? Email her at sherrik@ragan.com. 
COMMENT