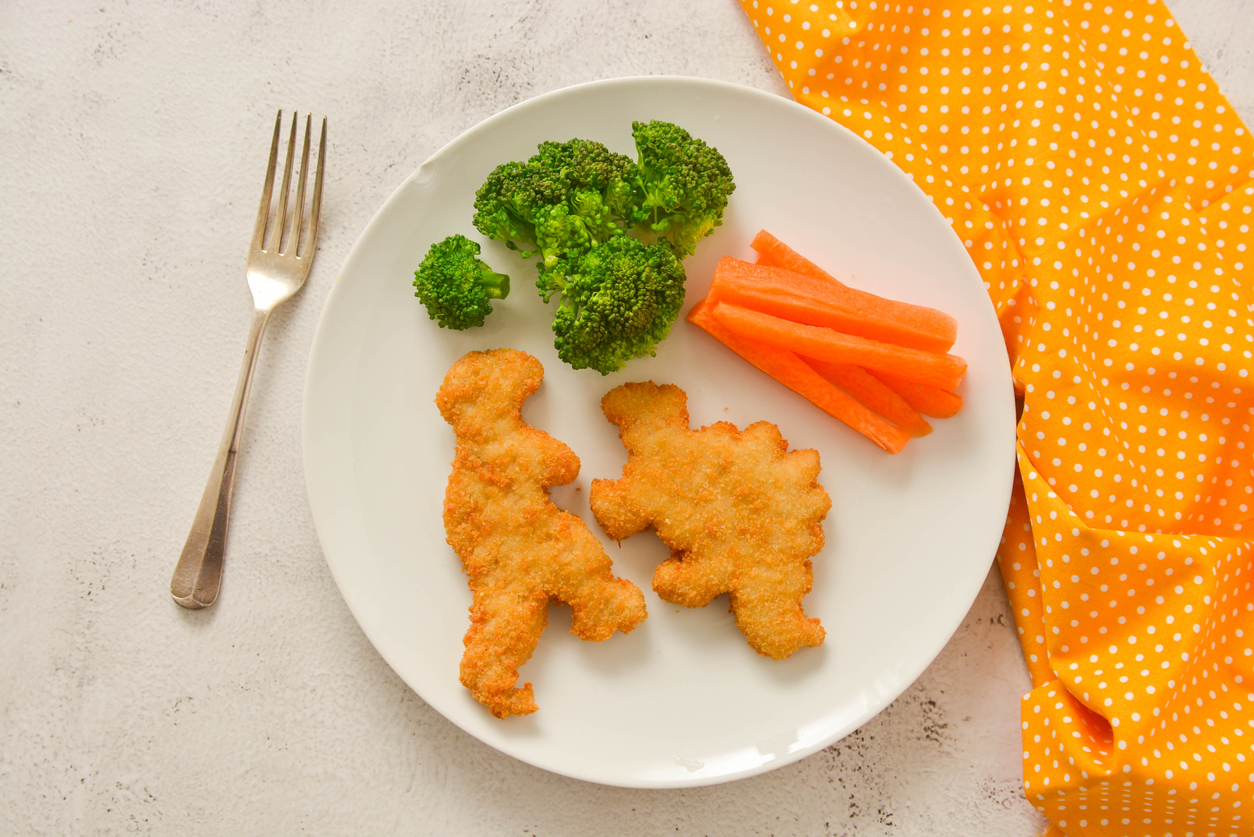 Green Giant came back with a bang, releasing national advertisements for the first time in six years with the adorable 8-year-old influencer, Tariq, also known as Corn Kid, who went viral for professing his love of all things corn, Adweek reported.
The "That's Giant" campaign features new Dino Veggie Tots in a commercial that focuses on Tariq and his mom, with a brief flash of the Jolly Green Giant's computer-generated hand grabbing a tot for himself.
"It's vegetables!" Tariq exclaims in the ad while holding a veggie tot.
Why it matters:
For us, we really like this collab!
Corn Kid and Green Giant are continuing and deepening an already successful partnership in a new way.
Tariq's great brand appeal and affinity for Green Giant's products make this a natural partnership — he is, after all, practically the spokesperson for all things corn. It's an easy jump to encompass other vegetables.
Vegetable brand king, Green Giant, debuted the green giant mascot in 1928. The Jolly Green Giant, which has evolved over time, is still going strong to this day as a beloved character.
The choice to scale back on the Jolly Green Giant's presence and focus on Tariq was an intentional strategy of simplifying and streamlining messaging.
"We often see heavy-handed approaches to bringing heritage brands into the current zeitgeist, and in this particular case, we felt like less was more," GYK Antler Creative Director Cristin Barth told Adweek.
Coupling the brand legacy that is Green Giant with Tariq's own influential following – especially with Millennial moms – makes sense. As a Millennial mom following Tariq's adorableness on the interwebs, it's a veggie-tastic thing to see.
Bringing in new elements to classic brands can help breathe fresh life into them and bridge gaps between consumers and even connect with new ones. How will your brand make things more interesting?
Editor's Top Picks:
X's Elon Musk and Israeli Prime Minister Benjamin Netanyahu talked at length about hate speech recently. Netanyahu spoke highly of Musk's dedication to freedom of speech but asked him to be more aggressive against hate speech. "I … know your opposition to antisemitism. … I hope you find, within the confines of the First Amendment, the ability to stop not only antisemitism … but any collective hatred of people," Netanyahu said, CNN reported. Musk said that he's against anything that promotes hate. Musk's actions, though, seem to say otherwise. He's threatened to sue the Anti-Defamation League because of its critiques against X, formerly known as Twitter. He also laid off over 80% of X's staff, many of whom were responsible for content enforcement. Actions speak louder than words.
Ryan Gregory, an evolutionary biologist, is among a group who give unofficial names to some COVID variants when they appear to stand out more than others, including Pirola, Kraken and Eris. Gregory says the names are easier to remember and create clarity, but there is concern that it can do the opposite. The World Health Organization assigns Greek letters to variants and some public health experts and virologists say that creating nicknames can confuse or exaggerate the problem. It underlines the importance of communications in public health, and the ongoing debate about how to communicate about COVID, even into the fourth year of its existence.
TikTok is changing the face of the American cookbook, placing a greater emphasis on aesthetics over recipes. And some influencers are landing cookbook deals with little cooking or baking experience — but huge followings. B. Dylan Hollis, cookbook author of "Baking Yesteryear," has 10.2 million TikTok followers and he's been an amateur baker since 2021. "To be known for baking without being trained or even particularly well versed in the topic, now that is a very peculiar notion," he told the New York Times. Influencers are taking the next step and going from online to offline and making waves in their own lanes and bringing their followers along for the interesting ride.
Sherri Kolade is a writer at Ragan Communications. When she is not with her family, she enjoys watching Alfred Hitchcock-style films, reading and building an authentically curated life that includes more than occasionally finding something deliciously fried. Follow her on LinkedIn. Have a great PR story idea? Email her at sherrik@ragan.com.
COMMENT